21+ Best Themes for Android Free Download
Everyone wants to customize their android phone with the help of the best themes and launchers available in the market. This is the best thing about an android phone it can be customized easily with the help of the best themes, icon packs, custom ROMs, fonts, and boot animation.
Stock Android doesn't have a good UI and a better appearance which doesn't like by most of the users. So they switch to custom ROM which enables them to customize and tweak android in every way.
This is why many developers are building the best themes for android and sharing free as well as paid on the Google Play Store.
The appearance of an android phone is more important than its specifications and the best themes for android can make your phone more beautiful.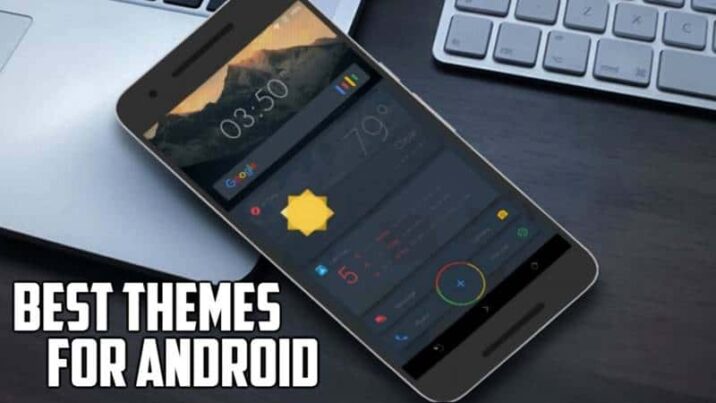 Download 21+ Best Themes For Android
In this article, I am going to share my favorite 21+ best themes for the android smartphone so that you can also customize your android and make it look better.
So without wasting your time let's move to the point and grab all of that 21+ themes and customize your smartphone.
Go Launcher – 3D Parallax Themes
Go Launcher is one of the most popular and oldest android launchers. It provides tons of customization options with the help of themes, icon packs, drawer sets, custom fonts, and wallpapers.
Features of Go Launcher
It Provides 10000+ free android themes.
Transition effect: It provides 20+ screen and drawer effects and animation which enhance your swipe.
Widget: It provides many widgets like Weather Widget, Clock Widget, and many more.
Clean and boost: It cleans the background memory-consuming apps to avail more free space.
Custom Icon Packs and Fonts library.
You can use Tons of wallpaper downloaded from go the library.
Action Launcher
Action Launcher is one of the best launchers based on Material Design which provides the look and feel of a pixel launcher. It is one of the best-awarded launchers on the Google Play Store.
You can customize the color of every icon with material design colors and enhance the look of your android phone.
Features of Action Launcher
It includes all features of Pixel Launcher.
Quick Themes: Fast switching between themes.
Quick Bar: See the latest notification and much more.
Quick Edit: Edit the tile of the notification bar with the help of quick edit.
Evie Launcher
Evie launcher is one of the best launchers designed by keeping performance along with customization in mind. It enables you to customize drawer grids, custom search engines, icon packs, themes, and more.
Features of Evie Launcher
Universal Search: Search inside your apps with one tap.
Quick Navigation: Fast switching between the apps
Custom Shortcuts: Make custom shortcuts by long-pressing the search bar.
Personalization: Import custom layout, and best themes for android with icon packs.
Nova Launcher
Nova launcher is the most downloaded and popular launcher in android history. It is very highly customizable by keeping fast performance and replaces your dumb screen with a material design to look the best.
Features of Nova launcher
Icon & Themes: it has thousands of icons and themes to customize android.
Customize App Drawer: It has custom vertical and horizontal tabs and also custom effects.
backup Restore: It allows you to back up and restores all settings of the launcher.
Performance: It provides a smooth interface without any lags.
Microsoft Launcher for Android
Formerly known as the Arrow it gives your device a good performance with customization and makes your device easier to use. You can access calendars, activities, and feeds by using your Microsoft account directly on your home screen.
Features of Microsoft Launcher
Tons of Best themes for android, icon packs, and gestures to customize.
People at Fingertip: Pin your contact to the home screen for faster access.
News, calendar, activity, and feed directly to the home screen.
Rootless Pixel Launcher
Rootless Pixel Launcher provides you with a better stock experience without using any custom ROM or too many apps. It has features like At a Glance and Google feed which you will not find in Nova or any other launcher.
Features of Rootless Pixel Launcher
Stock Android Experience: Enjoy the fast and smooth stock android.
Google Feeds: Get google feed directly on your home screen with a tap.
Custom Icon Packs: it allows you to choose a custom icon pack and enhance your android.
Best Themes: it provides the best themes for android.
Zooper Widget
It is a DIY widget with limitless customization and gives you the power to customize your android phone. Provide many widgets to choose from and if you want to create your own you can start with any template.
Features of Zooper
Tons of templates to choose from.
1000+ widget is available.
Limitless Customization
Create your own widget with the templates available in the library.
Stylish Cool OS 12 Theme
It provides a smoother and faster experience to the android device along with high-definition wallpapers and simple OS icons. It has many types of icons, wallpaper, and designer lock screens to enhance your android device's look and performance.
Features of Stylish Cool OS 12 Theme
Stunning Interface
Specially designed icons
HD and 3D Wallpapers
Designer lock screen and live wallpapers.
Ocean Dream for Zen UI Launcher
It is the most powerful launcher preinstalled on the Asus Android phone. It does not have any bloatware and provides a very high customization option to make your android more beautiful. Its icons are well designed and packed for Asus Phones and it does not need an extra thing to install.
Features of Ocean Dream
No bloatware
Highly Customizable
Well-Packed Designed Icon
Best themes for Android
Pinko for Apus Launcher
Pinko is the best android theme that gives a high-definition and beautiful appearance to an android phone with circle icons. It works on the Apus launcher which is the fastest launcher for android.
Pinko provides you with a smooth interface with high-definition wallpapers and round icon packs.
Features of Pinko
Best themes for Android (Rank 5th in best android themes)
High Definition Interface
Beautiful wallpaper
Round icons
Computer Launcher for Windows 10
If you are a fan of Windows Ui and want your android to look like a computer then you must download the computer launcher for windows 10. This theme converts your mobile experience into a windows computer with windows 10 Ui and a beautiful design.
Features of Computer Launcher
Windows 10 File Manager Style.
Windows 10 Recycle Bin.
Windows 10 Start Menu
Windows quick setting.
Cool Black Theme
Do you love black if yes then this theme best suits your android device? This theme is specially designed for the Samsung Galaxy S7, Sony, Motorola, Huawei, and HTC Phones. Cool Black Theme works well with the CM Launcher and includes dozen of themes and icon packs.
Features of Cool Black theme
All Black – Specially designed for black lovers
Dozens of themes
Tons of icons
'Works with CM Launcher
8.1 Metro Look Launcher
8.1 Metro Look Launcher is one of the best launchers based on the Nokia Lumia Phones and is available to download for free. It provides a great experience and smooth interface with the windows 8.1 tile system.
Features of 8.1 Metro Look Launchers
Deliver the best performance on all devices.
Having well-designed multicolor metro themes.
Highly customizable and has less power consumption.
Drag and drop features.
Application hiding features.
Steampunk Launcher Theme
Steampunk launcher thems secured its place in the best themes for android at 7th place. Many steampunk themes are available in Google Play Store but this is best for everyone as it has wooden wallpaper.
Steampunk themes require Hola Launcher to be installed for its proper work.
Features of Steampunk Launcher
Small: Just 2Mb in size
High Performance: It can make your apps load faster than before.
Automatically organize your apps into smart folders
Stylish: Customize with your unique wallpaper collections.
C Launcher
C launcher is the best launcher with wonderful themes and high-definition wallpaper. It is a fast and low battery consumption launcher. It can also hide apps and protect your privacy and enhance the overall experience of android themes.
Features of C Launcher
It can hide apps and protect your privacy.
It can speed up your android phone.
Very low battery consumption.
Wonderful themes and HD Wallpapers
Street Night City View Theme
Street Night City Views is the Romantic theme for the C launcher with dark backgrounds and soft colors. It is compatible with all wallpaper and lockers of similar types. With the theme, you can change the home screen wallpaper, drawer, icon, and folder icon easily.
This theme works only with the C launcher and provides a smooth interface to android devices.
Features of Street Night City View
Dark Backgrounds and Soft Colours
Tons of romantic and street view wallpapers
Highly Customizable
Best performance with C Launcher.
Flux – Substratum Theme
Flux is the highly downloaded paid theme for rooted android users. If you are not rooted you can also use this theme but its cost will slightly increase as you have to purchase Andromeda.
If you want to root your phone you can root with your android phone or use pc to root your android device with a single click.
Base on the Pixel UI theme themes provides a completely black-and-white graphic with high customizations. This theme work on both stock and custom ROM with Android naught, and higher versions.
Features of Flux – SubstratumTheme
Highly Customization: You can customize every part of android including the home-screen, icon, drawer, etc.
Customizable Notification tile and quick setting
10x faster performance than any other android theme.
Eye-catching design with material colors.
UCCW Ultimate Custom Widget
UCCW is what you see is what you get an editor for the widgets. With UCCW you can customize the layout of objects, fonts, images, shapes, Analog clocks, battery meters, weather, and more.
You can install countless skin from the Google Play Store made by other users and enhance your android device and make it look more beautiful.
Features of UCCW
Countless skin to installed
The highly customizable layout of fonts, images, and other widgets.
Text mapping to override text values.
Collection of many Graphics, Text and Special objects.
Bling Launcher
Bling launcher provides stylish and eye-catching themes free for the android phone. It has a large collection of 3D Wallpaper to choose from and apply.
It also provides safety features like hiding apps and locks some special apps to block a user from accessing apps.
Features of Bling Launcher
Tons of 3D wallpaper
Eye-catching themes and stylish incoming call screen
Pattern lock your secret apps
Junk Cleaner: Clean junk files and release space.
Notification Cleaner
U Launcher 3D
It is one of the best launchers for Android phones on Google Play in terms of 3D Themes and wallpaper. It has a collection of 10,000+ 3D themes and transient effects. U launcher has many features like Folder Lock, Hide Apps, Junk Cleaner, Speed Booster, Smart Gesture, and many widgets.
Features of U Launcher
Unlimited free download of Wallpaper & Themes
3D Parallax Background
10+ 3D Screen Transition effects.
Speed booster tp free up memory and increase android performance.
Hide and Lock Apps.
Smart folder to organize all your apps smartly.
Conclusion
So finally we have covered up our list of 21+ best themes for Android smartphones. Most of the above themes require some kind of launcher for them to work. If you want to make your phone more attractive then you must give try the best themes for android and comment down below which theme you like the most.