Everyone wants to customize their android phone with the help of best themes and launchers available in the market. This is the best thing about an android phone that it can be customized easily with the help of best themes, icon packs, custom ROMs, fonts and boot animation.
Stock Android doesn't have a good UI and a better appearance which doesn't like by most of the users. So they switch to custom ROM which enables them to customizes and tweak android in every way.
This is why there are many developers building the best themes for android and sharing free as well as paid on the Google Play Store.
The appearance of an android phone is more important than its specifications and best themes for android can make your phone more beautiful.
Download 21+ Best Themes For Android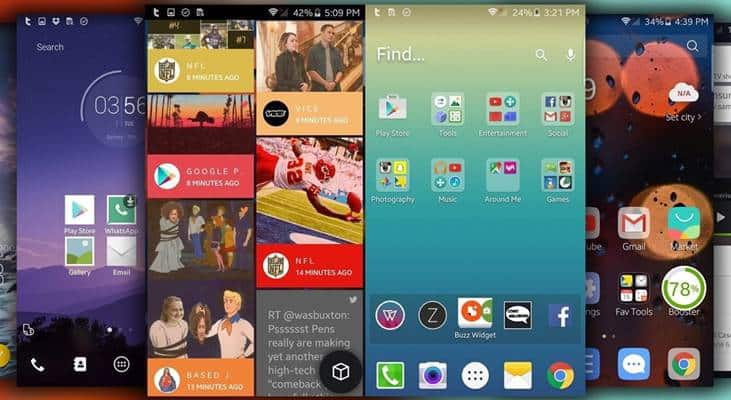 In this article, I am going to share my favorite 21+ best themes for the android smartphone so that you can also customize your android and make it look better.
So without wasting your time lets move to the point and grab all of that 21+ themes and customize your smartphone.
Go Launcher – 3D Parallax Themes
Go Launcher is one of the most popular and oldest android launchers. It provides tons of customization option with the help of themes, icon packs, drawer sets, custom fonts, and wallpapers.
Features of Go Launcher
It Provides 10000+ free android themes.
Transition effect: It provides 20+ screen and drawer effect and animation which enhance your swipe.
Widget: It provides many widgets like Weather Widget, Clock Widget and many more.
Clean and boost: It cleans the background memory-consuming apps to avail more free space.
Custom Icon Packs and Fonts library.
You can use Tons of wallpaper downloaded from go library.
Action Launcher
Action Launcher is one of the best launcher based on Material Design which provides look and feel of a pixel launcher. It is one of the best-awarded launchers on Google Play Store.
Must Read | How to Change Windows 10 Login Screen Background
You can customize the color of every icon with material design colors and enhance the look of your android phone.
Features of Action Launcher
It includes all features of Pixel Launcher.
Quick Themes: Fast switching between themes.
Quick Bar: See the latest notification and much more.
Quick Edit: Edit the tile of notification bar with the help of quick edit.
Evie Launcher
Evie launcher is one of the best launcher designed by keeping performance along with the customization in mind.
It enables you to customize drawer grid, custom search engine, icon packs, themes and more.
Features of Evie Launcher
Universal Search: Search inside your apps with one tap.
Quick navigation: Fast switching between the apps
Custom Shortcuts: Make custom shortcuts by the long pressing search bar.
Personalization: Import custom layout, best themes for android with icon packs.
Nova Launcher
Nova launcher is the most downloaded and popular launcher in android history. It is very highly customizable by keeping fast performance and replaces your dumb screen with material design to look best.
[quads id=4]
Features of Nova launcher
Icon & Themes: it has thousands of icons and themes to customize android.
Customize App Drawer: It has custom vertical and horizontal tabs and also custom effects.
backup Restore: It allows you to backup and restores all settings of the launcher.
Performance: It provides a smooth interface without any lags.
Microsoft Launcher for Android
Formerly knows as the Arrow it gives your device a good performance with the customization and makes your device more easy to use.
You Might Also Like | 10 Best Wallpaper Sites to download Free Desktop Wallpaper
You can access calendars, activities, and feed by using your Microsoft account directly on your home screen.
Features of Microsoft Launcher
Tons of Best themes for android, icon packs and gestures to customize.
People at Fingertip: Pin your contact to the home screen for faster access.
News, calendar, activity and feed directly to the home screen.
Rootless Pixel Launcher
Rootless Pixel Launcher provides you the better stock experience without using any custom rom or too many apps. It has features like At a Glance and Google feed which you will not find in Nova or any other launcher.
Features of Rootless Pixel Launcher
Stock Android Experience: Enjoy the fast and smooth stock android.
Google Feeds: Get google feed directly at your home screen with a tap.
Custom Icon Packs: it allows you to choose a custom icon pack and enhance your android.
Best Themes: it provides the best themes for android.
Zooper Widget
It is a DIY widget with limitless customization and gives you the power to customize your android phone. Provide many widgets to choose from and if you want to create your own you can start with any template.
Features of Zooper
Tons of templates to choose from.
1000+ widget is available.
Limitless Customization
Create your own widget with the templates available in the library.
Stylish Cool OS 12 Theme
It provides a smoother and faster experience to the android device along with high definition wallpapers and simple OS icons.
Must See | Wallpaper : Grab New Samsung Galaxy S9 Plus Wallpaper Collections
It has many types of icons, wallpaper and designer lock screen to enhance your android device look and performance.
Features of Stylish Cool OS 12 Theme
Stunning Interface
Specially designed icons
HD and 3D Wallpapers
Designer lock screen and live wallpapers.
Ocean Dream for Zen UI Launcher
It is the most powerful launcher preinstalled in the Asus Android phone. It does not have any bloatware and provides very highly customization option to make your android more beautiful.
[quads id=2]
Its icons are well designed and packed for the Asus Phones and it does not need an extra thing to install.
Features of Ocean Dream
No bloatware
Highly Customizable
Well Packed Designed Icon
Best thems for Android
Pinko for Apus Launcher
Pinko is the best android themes that give high definition and beautiful appearance to an android phone with circle icons. It works on the Apus launcher which is the fastest launcher for android.
Pinko provides you the smooth interface with high definition wallpapers and round icon packs.
Features of Pinko
Best thems for Android (Rank 5th in best android themes)
High Definition Interface
Beautiful wallpaper
Round icons
This is not the end of our list just visit next page and see the rest of Best themes for Android Phone