10 Best Wallpaper Apps For Android To Make Stylish
Wallpaper, who doesn't want a pretty wallpaper on a smartphone. Checking out of android wallpaper is easy to bust set up one that most like takes much more time. Here are the top 10 best wallpaper apps easily available in the Play Store to get, which can make your phone looks pretty.
Top 10 Best Wallpaper Apps For Android :
Backdrops
Backdrops have been my personal go-to wallpaper app for a long time. When people ask "what wallpaper is that" I usually direct them to Backdrops. All of the wallpapers in the app have been created by the Backdrops team. They're all 100% original creations that you won't find anywhere else. New wallpapers are added almost every day.
[appbox googleplay com.backdrops.wallpapers]
Google Wallpapers
Google's Wallpapers app doesn't win any awards by default of them being Google. It's on this list because it's a no-frills wallpapers app for Android with some beautiful options. Google has many options across different categories, including landscapes, cityscapes, and even seascapes. And there's a nice selection of free live wallpapers for those wanting something more dynamic.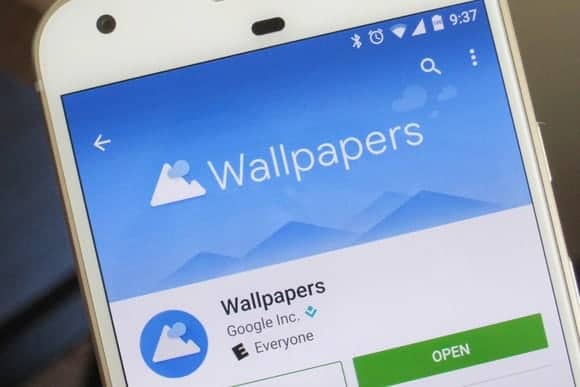 [appbox googleplay com.google.android.apps.wallpaper]
Walli
Walli takes a similar approach to Backdrops. The wallpapers in Walli and made exclusively for phones. A community of artists curates the wallpapers so you don't have to sift through piles of garbage. The app is well-designed and allows you to like art so you can find it easily later. The wallpapers are available in multiple sizes.
[appbox googleplay com.shanga.walli]
Tapet
Tapet is like the Pandora of wallpaper apps. Wallpapers are generated based on your likes and dislikes. As you scroll through wallpapers and rate them with a thumbs up or thumbs down, the suggestions change. If you like a certain pattern it will show up more. Same for color and shapes. It's a great way to get completely custom looks.
[appbox googleplay com.sharpregion.tapet]
Mysplash
If you're not familiar with Unsplash.com, it's a website that has high-resolution photos that you can use for free. My splash is a wallpaper app that uses the photos from Unsplash. You get thousands of beautiful photos that are perfect for wallpapers. You can search and even download raw photos.
[appbox googleplay com.wangdaye.mysplash]
Muzei
Muzei is a different type of wallpaper app. It's the only "live" wallpaper app on our list. I put quotes around "live" because it's not the traditional live wallpaper app. The wallpaper isn't in constant movement. Instead, it can be automatically changed throughout the day or every day. Many other wallpaper apps work with Muzei.
[appbox googleplay net.nurik.roman.muzei]
Weatherback
Weatherback is an app that gives you the feeling of a live weather wallpaper, but it uses your own wallpaper as a background. The app will put rain, fog, or snow on top of your own wallpaper. The effect matches the real weather, and since it's not a live wallpaper you don't have to worry about battery life
[appbox googleplay com.andrewou.weatherback]
Wonderwall
Wonderwall is a simple wallpaper app that provides you with high-quality landscape backgrounds. Unique photos are added every day so you never run out of new wallpapers. Wonderwall collaborates with photographers to deliver unique photography you won't find in any other app.
[appbox googleplay com.ignacemaes.wonderwall]
Backgrounds HD
With over 90 million users, it's safe to say Backgrounds HD is a popular app. This app has tons of wallpapers spread across a variety of categories. The new wallpaper is added every day as well. The wallpapers are selected by the staff to guarantee they meet the quality requirements. You'll find something you like with this app.
[appbox googleplay com.ogqcorp.bgh]
Zedge
The last app on our list is an old classic. Zedge has been around for a very long time and it's still kicking as a solid app for wallpaper (and ringtones). Each wallpaper and lock screen offered is matched to your device for the best experience. You can quickly set wallpapers from within the app and you can save favorites to be used on any device.
[appbox googleplay net.zedge.android]
Conclusion :
So here we ended up with our list of the top 10 best wallpaper apps for android devices. You can now make your device even more beautiful with this wallpaper. Hope you will like it. If you have any suggestions let me know in the comment box.