Do you have an android smartphone? Probably every second person in world have an android phone. Android is a more popular operating system because of its ease to use and being open source.
But do you know that android has many secret code which can easily let you manage your android phone and also help to service your android phone. Today i am going to talk one of android secret codes which can lead you to Android Engineering Mode or let's say Service Mode.
Read Also | How to Root Android Smartphone with Mobile in Single Click
Yes, it is kept behind some secret code which can be easily accessed by phone's dialer. Once you press the right code you will be their in Android Engineering Mode. In MTK smartphone it is also called MTK Engineering Mode.
What is Android Engineering Mode?
Android Engineering Mode is an effective tool for improving, optimizing and tweaking the android performance to increase its capabilities. You can use android engineering mode to boost the performances of your phone.
You can also use this tool to keep track of all your installed apps and their statics. Yes, this tool keep a record of all apps usages, battery usages, wifi usages and perform many other activities.
Basically Android Engineering Mode is just like a control center of your phone who keeps a record of all programs and hardware. With the help of this tool you can also repair your android smartphone if its not a major hardware issue.
Main Use Of Android Engineering Mode:
Switch Network Band between GSM, WCDMA & LTE.
Increase Your Audio in Android.
Customize Camera Hardware settings.
Contol and Manage CPU.
Increase WiFI Capability.
Customize Bluetooth hardware.
Change Mac of Phone.
Change IMEI of Android Phones
How to Access Android Engineering Mode
Basically there are multiple options available nowadays to access android engineering mode. Some popular apps also allow you to open engineering mode easily with one tap.
You Must Read | How to Unroot Android in Single Click
So here are the best method to open android engineering mode in any smartphone running on android operating system.
1. Accessing Engineering Mode through Phone's Dialer
This is the best and very easy method to access engineering mode in android. This method dos not require any third-party application. All you need is to open your android phones dialer and thats it.
Follow these steps to go to engineering mode:
Step 1: Open your phone dialer (Basically where you dial numbers to call)
Step 2: Now type *#*#4636#*#*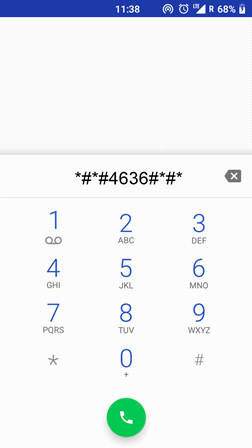 Step 3: As soon as you type the last * it will take you to the android engineering mode. These code are different for some smartphone. But for all MTK smartphone the code remain same.
2. Accessing Android Engineering Mode through Mobileuncle Tool
If the above method doesn't work for you try this method it will surely work for every android smartphone or tablet.
Mobileuncle tool is an application which allows you to go to android engineering mode and also allows to flash custom recovery in android smartphone.You can also take a backup of youtr phones IMEI number and restore them later when you need.
The is an essential tool if you are one who try to test different ROM'S and recovery in android.
To go to engineering mode folow these steps:
Step 1: Download Mobileuncle Tool from here.
Step 2: Install the Mobileuncle Tool app as you install other android apps.
Step 3: Now open Mobileuncle Tool and click on Engineer Mode as shown in below image.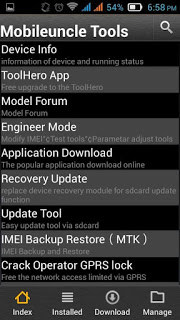 Congrats, you are now in android engineering mode.
3. Access Engineering Mode through MTK Engineering Mode App
MTK Engineering Mode is the simplest application designed to access engineering mode in Android smartphones based on MTK Chipset.
It support all major MTK chipest models like MT3765, MT6205, MT6216, MT6235 and many more.
Read Also | Top 10 Best WiFi Hacking Apps For Android Smartphone | 2020 Edition
With the help of this application, you can easily access the engineering mode. All you need to download and install the application. And that all, when you open the application it will take you directly to the engineering mode.
Wrapping Up
Android engineering mode is use to tweak the android smartphone to improve its performance. You should only use this tool when you really need it and know what are you doing.
Tweaking with wrong settings can also brick android smartphone. So beware and think twice before doing any changes in this tool.