Best DNS Changer Apps for Android to Improve Performance
DNS (Domain Name Server) plays an important role in browsing the website on an android device. If your DNS server is not working properly then you might end up with errors like DNS lookup failed or connection refused. This is the most common problem faced by android users when accessing a website on the browser.
Changing the DNS server on a windows computer is quite easy but it's a little bit complicated on android. By default, android does not allow you to change the DNS server on mobile data but you can do it on WiFi.
And in this article, I am going to list the 10 best DNS changer apps for android that will change your DNS server in minutes. By doing so you can remove the bottlenecks of errors and improve the browsing experience on android devices.
What is DNS Changer Apps
When you open any website on the browser your android asks the DNS server for an IP address where the site is hosted. Once it gets the IP address the browser loads the website. But if the DNS server fails to fetch the IP address you will see errors as DNS lookup failed.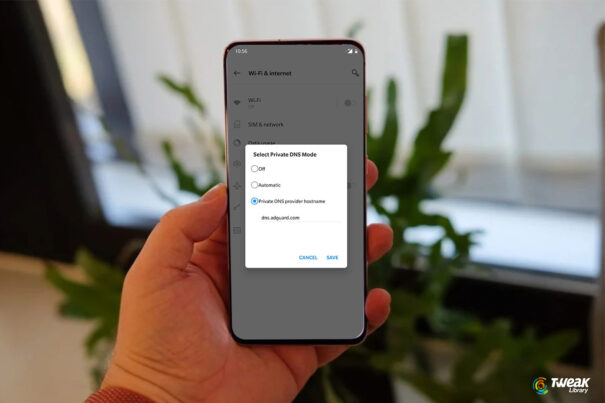 This mostly happens when your ISP uses a bad DNS service. By default, your ISP assigns a DNS server every time you connect your device to the internet. But you dont have to use that. Instead by using a custom DNS or an open DNS server, you can improve your network performance and also bypass restrictions set by your ISP.
This is where the DNS changer apps come into play. These apps change the default DNS server to a custom DNS server that you provide or can also use open servers like Google DNS and OpenDNS.
List of 10 Best DNS Changer Apps for Android
Google play store is flooded with these types of apps and I am not going to talk about everyone. But instead, I have listed the 10 best DNS changer apps for android according to their ease of use and features.
1. Android Native Process
We are so used to searching for apps for everything that we forget, Android comes with a lot of features built-in. And changing the DNS server is one of them. Let's take a look at how it works.
Open Settings on your android device and tap on the WiFi.
Select the network to which you are connected and click on modify network on the popup screen.
Click on the Advanced Option and switch from DHCP to Static to enter the custom DNS server address.
Enter your custom DNS address in DNS1 and DNS2 fields. If you dont have a custom DNS server address, use public DNS servers like OpenDNS and Google DNS.
2. Cloudflare 1.1.1.1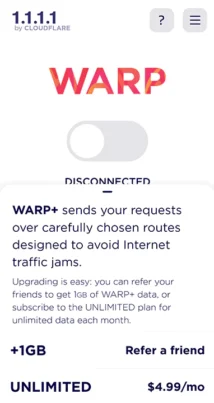 Cloudflare recently launched its own DNS server app, known as 1.1.1.1 + Wrap. The app is free to use and allows you to use the Cloudflare DNS over the default DNS server. By using this you can increase network speed and get Cloudflare security benefits.
1.1.1.1 is the fastest DNS resolver on the earth and it offers better network performance than Verisign, Google, and OpenDNS, as said by Cloudflare. It encrypts every bit of your data leaving your device, making it more privacy-focused. This app becomes very useful when you need to connect to a website that is blocked in your region, like Netflix.
3. DNS changer by Blokada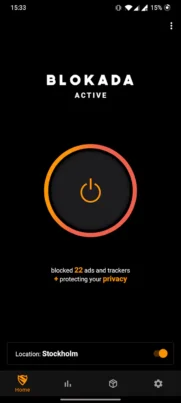 Blokada is one of the best DNS changer apps for android that allows users to change the DNS servers. The best thing about this app is that it allows you to connect to any public DNS server with a tap. That means you no longer need to search for open DNS server addresses on google.
The interface of the app is also quite good and easy to use. Everything inside the Blokada is well-organized and can be found easily with a few clicks. Along with the DNS server the app also free VPN to unlock malicious and restricted websites.
4. DNS Changer Beta (No Root)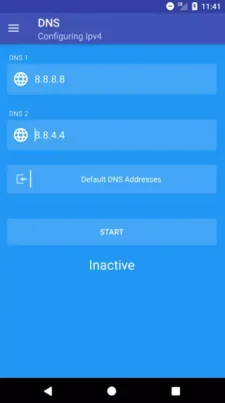 If you are looking for a free DNS changer app with a clean look and without annoying ads then DNS changer beta is the perfect fit for you. The app offers a simple UI with useful features like the ipv4 and ipv6 settings. Along with this, you can also customize the app notifications. So that no one can guess that you are using the app.
You can start the app right from the boot and also password-protect the app. Apart from this, if the app suddenly stops, it provides a full explanation and possible solution to the problem.
The app lists the free DNS servers and has more options like Verizon and Norton. But what I like the most is the Whitelist features, which allow you to whitelist apps by using custom DNS. This is very useful when you are only using a browser to access restricted content and the rest all the apps use the default DNS server.
Checkout DNS Changer (No Root)
5. Nebulo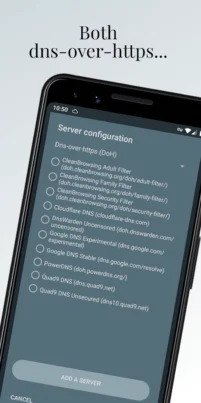 Neulo is relatively a new app in the list of DNS changer apps for android. But the app is powerful and provides better security and works on a new technique to send the DNS request. It implements DNS over HTTPS, TLS, and DOH3 to safely resolve and serve the DNS request.
Similar to every app in the list it also provide a preconfigured list of open DNS server right in the app. You can download the DNS changer apk file from here and install it right away on android.
6. Fast DNS Changer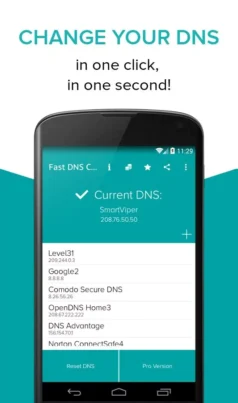 If you are getting too many errors while accessing the internet, you should try Fast DNS Changer. As the name sounds the app allows you to change the DNS instantly and eliminate all the connection errors.
To make the app experience even more smooth and fast the app offers 15 different public DNS settings to choose from. All you need is to tap on one and voila you will be connected to the internet with a news server. Also, the app is very lightweight, which means no more battery drain and performance issues on android.
7. Override DNS (Root)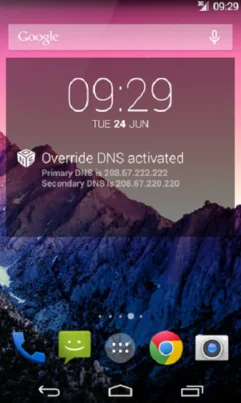 Unlike the other apps on the list, this app will not create a VPN to override DNS. Instead, it changes the internal network settings, which means less battery drain and better performance. On top of this, the app assures better privacy so no one can see your internet data.
The only con of this app is that it requires a rooted android device to work. If you don't have a rooted android see this article on how to root an android device in a click. But for most of the users rooting is a bit complicated task and should move to the next app in the list.
8. DNS Manager (with DNSCrypt)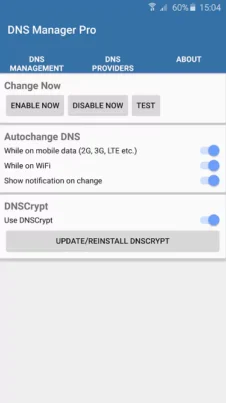 As the name suggests, the app comes with DNScrypt built inside. This means that all your data over the connection is encrypted and no one can see what you are doing on the internet. This makes DNS managers more privacy-focused. If you take privacy more seriously, you should choose this app.
The free version of the app comes with annoying ads but as long the app is working it's good to go for me. Apart from this DNS Manager offers a quite simple and easy-to-use user interface.
Checkout DNS Manager (with DNSCrypt)
9. Netguard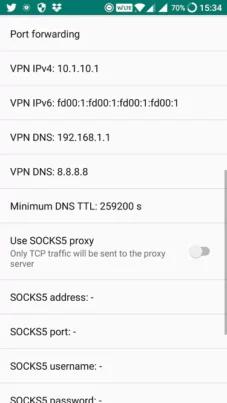 Netguard is one of the most popular apps for android when it comes to blocking a particular app from accessing the internet. But apart from this it also offers features like AdBlock, firewall control, and change DNS settings.
To change the DNS setting, open the Netguard app and go to Settings, Advanced Options. This is where you will find options to change DNS, subnet mask, and manage all your Internet traffic the way you want.
10. DNS Changer – Lilly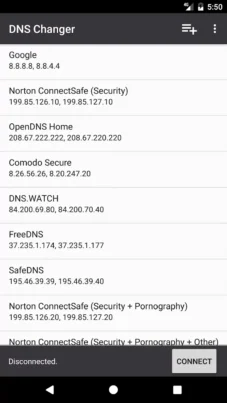 DNS Changer – Lilly is a relatively new app in our list of android dns changer apps. But does it its job and changes the DNS servery very easily. Just like most apps, the app offers preconfigured public dns servers including Google, Norton, Commodo, DNS Watch, and many more.
One can easily switch to the custom dns server by tapping on a public dns server from the list. The app also uses ipv4 and ipv6 protocols for better performance. Once you select a free dns server it turns the app into a VPN mode and connects you to the internet with new dns settings.
How to tell if you have successfully changed DNS servers?
First of all flush your DNS cache, to make the new DNS settings in effect.
To do this reboot your android device.
Use any one app from the list above and select OpenDNS as your dns resolver.
Open the browser and type http://welcome.opendns.com in the address bar and hit enter.
If you have done the configuration right, you'll see "Welcome to OpenDNS!" and if not, then you'll get an 'Opps' page.
Conclusion: Best DNS Changer
1.1.1.1 + Wrap by Cloudflare is one the best DNS changer app for android. The UI is simple and very light in weight. The app provides better privacy and more network performance as compared to any other app in the list.
And the best important thing is that it's free. Although it has a premium subscription, for me the free plan is way too good for day-to-day tasks. But if you are planning to use it to stream Netflix content outside, you need to go for a paid version of the app.