If you are a MX Player Fan like me then you have already downloaded it. MX player has never give me a reason to regret for installing it. But recently i am facing an error EAC3 audio not supported. If you are also facing this issue then let me tell you the issue is with EAC3 codec files.
EAC3 also known as Ehhanced Audio Codec 3 is a codec file that allows to play audio files while watching videos. There are number of custom codec files are available for mx player including ARM7, Neon, and Tegra. When this files are missing form the player you will not able to listen audio and recieve errors like above.
To fix these error you need to download mx player custom codec files. But instead of downloading singles files, download mx player aio zip file. This all in one zip file contain all the popular codec files for mx player. So lets dive in and install custom codec for mx player.
| | |
| --- | --- |
| File name | mx_aio.zip |
| Version | 2.0 |
| File size | 25.8 MB |
| Updated on | November 20, 2022 |
Need of MX Player AIO Zip & EAC3 Codec Files
As i said above, mx player need audio codec files to play audio along with video. Without these codec files you will not be able to listen any audio while playing a movie. By default when you install mx player from Google Play Store, it includes codec files based on your device artichtecture.
But due to licensing issues, in recent update mx player has removed some codec files. This mean, you wont be able to play certain video and audio files. This includes AC3, DTS, MLP and TrueHD files.
To play this files you need to download mx player aio zip file or EAC3 codec files. The aio zip file contain most of popular codec files, so you dont need to download codec files one by one. These include files like ARM7 Neon, ARM 8 Neon and codec with DTS supports.
How to Fix EAC3 Not Supported
So if you are one who is facing EAC3 audio not supported error while playing favorites videos on mx player. Then you can easily fix this compatibility issue and recover lost DTS support.
To fix EAC3 not suported error, download EAC3 codec package and install it on mx player. You can downoad this codec from below section or you can also use play store to download. Once the codec is download and installed, restart the mx player to fix EAC3 audio problems.
Download MX Player Custom Codec
To get a pleasant experience while playing video files you need to get supported codec files. Without these files you wont be able to play certain media files. So download mx player custom codec files and enjoy smooth experience.
There are two way to get these codec files on your mx player and both are listed below. Choose one method for mx player custom codec download and install them.
If you dont know which codec files to choose, then follow this method to know mx player codec file you need.
Open MX Player and tap on the three dots on top-right corner of the screen.
Click on setting and select decorder from the menu that pop-ups. Scroll bottom to the section and you will see Custom Codec. (In most casese, Neon and Tegra are there.)
Now download these custom codec files from below section and install them on mx player. Once installed restart the player.
Note: if you are unsure, simply download all in one codec file (aio zip file).
MX Player Codec Zip Files Download
Here are some of the popular and best mx player codec zip files. Download these zip files as per your need or download aio zip files to get a complete codec package.
MX Player Codec APK Files Download
If you dont want to download mx player custom codec zip files then you can also go with APK files. Download MX Player Custom codec APK files from below install them like a third party android app.
Here are some of most popular Codec APK files for MX player, choose one you need.
ARM5te codec 1.7.39
ARM6 codec 1.7.39
ARM6 codec vfp 1.7.39
MIPS codec 1.7.39
How to Install MX Player Codec Files
So now you have downloaded mx player codec files, its time to install them. But if you have downloaded this codec files on your PC, first move them to your device internal storage. Once moved follow below setps to install mx player custom codec.
1. With Zip Files
Download mx player codec zip files from above and move them to device internal storage.
Open MX player and it will auto-detect the custom codec files and prompt you to install the.
Click on install button when prompted and installing will start soon.
Once installed, resratb mx player and enjoy audio without anu issue.
But, if mx player does not detect you codec zip files for some reason then you need to install them manually. To instll zip files manually follow below steps.
Step 1. Open MX player on your phone
Step 2. Go to Settings > Decoder > General > Custom Codec.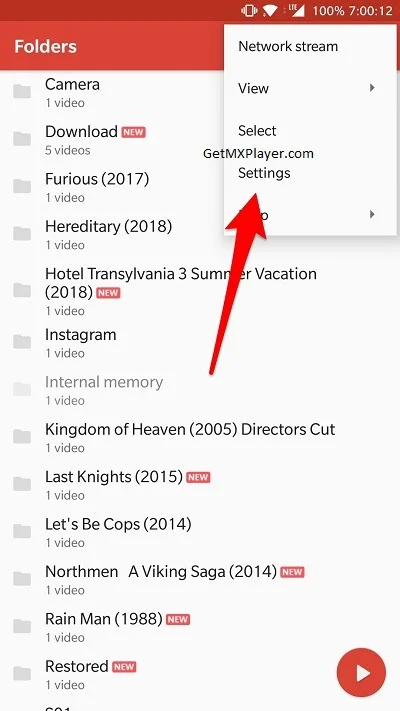 Step 3. Naviagte to the path where you stored custom codec files. Once selected it will start installing and restart the app.
Also Read: How to install mx player on a Windows PC.
2. With APK Files
If you have downloaded MX player custom code apk files then you can installed them like a any other app. But if you dont know how to install, then follow below steps.
Download MX Player custom codec apk files from above section.
Go to Device Setting > Security > Allow from unknow sources
Click on the apk file and follow on screen instruction and press next and next. At last you will get option install and tap on that.
Now the app will start installing.
FAQ's
What is a MX Player Codec?
MX Player Codec is a code file that contains the necessary information to run the app on devices with ARMv7 NEON CPUs. If you have such CPU then you need to download MX player codec to watch unsupported video files.
How to download MX Player codec?
To download MX player custom codec go to the above section and select the files you need to download. Once the codec file is download, follow the above steps to install it on MX player.
How to Install MX Player codec?
To install MX player codec:
Open MX Player app
Go to Settings > Decoder > General > Custom Codec.
Select the codec files you downloaded and tap on the install button
Once installed, restart MX player to take effect.
What is MX Player custom codec file?
A MX player custom codec file is a modified version of the FFmpeg library used in the MX player. With the help of this, you can play DTS and AC3 audio files in the player.
Which Codec is best for MX Player?
The All-in-one codec (aio.zip) is one of the best codec files for MX Player. This file contains the most popular codec and installs them as per your device.
An EAC3 file is an audio file saved using enhanced compression. This file contains multi-channel audio and is successor of AC3 format.
How can i play EAC3 file in MX Player.
To play EAC3 file in MX player you need to download the EAC3 codec for MX player. You can also download AIO custom codec for MX player that supports EAC3 files.
Wrapping Up
MX player is one of the best media player apps for android and windows devices. If you used MX player then you are already familiar with its features and problems. In rare case, MX player throw any type of error like with codec files. But installing the right custom codec file for MX player solves this error.
But if you are still unable to resolve the EAC3 audio not supported error on MX player then drop your comment below.