15 Best iOS Emulators For PC [Run iOS Apps on Windows] 2022
Do you want to run your favorite iOS apps on Windows PC, if yes then you are at right place. Nowdays transferring the data between iOS and windows PC is too difficult. But do cure these problems today I have listed out the Best iOS emulators for PC.
With the help of this Best iOS emulator, you can easily emulate any iOS app on your Windows 10, 8, 7 PC. Along with this you can also trasfer your files between your iOS device and Windows PC.
Many of the iOS or Apple users face this problem of data transfer or unsupport of application in windows PC. But now you dont have to worry because of the Windows iOS emulator.
What are iOS Emulators?
Before moving to the topic "What are the best iOS emulator for Windows PC", lets know whats actually iOS Emulators are.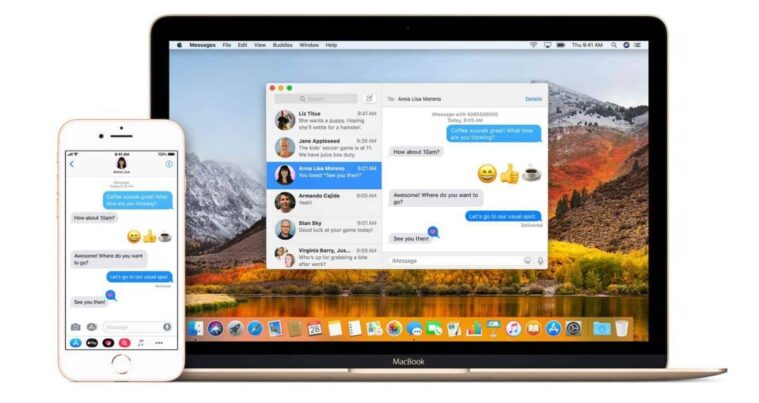 Well emulators are the programs which create a different atmosphere on various operating system. Like you can install iOS emulators in Windows PC to run iOS apps.
Similarly there are many Android emulators are also available which helps you to run android apps on windows PC. Like when you want to play an android games but you are not able to find that in Windows Store. Then you can install android emulators to play android games.
iOS emulators are also same. They creates an iOS environment in the Windows or other operating system to emulate or run iOS applications. iOS emulators adopt the concept of virtualization technology.
Such type of virtualization techonlogy is responsible for creating the Virtual Machine on any operating system. Like you can install a Linux operating system in Windows PC with help of these virtaual technologies,
Advantages of iOS Emulators
The main advantage of iOS Emulators for PC is that you can get them free of cost. Yes you dont have to pay money for them.
You can run iOS emulators on a various operating systems like Windows, Linux, Mac OS, android etc.
You can test any application without running on a particular operating system.
You can always upgrade them at free of cost.
Best for developers to test the application while developing.
Disadvantages of iOS Emulators
It consumes a lot of RAM, so there are chances of lagging experience while using other apps.
Require more space to create virtual disks.
High-End games can not work properly due to hardware and performance issues.
So now you have enough idea about iOS emulators and also checked their advantages and disadvantages. If you want to run high-end games then you must have a PC with a good specification.
Else you can use these iOS emulators to run apps for daily uses in normal windows PC. So lets move towards the best ios emulators for windows pc.
15 Best iOS Emulators for Windows PC
Here i have listed the best ios emulators for Windows PC according to their features and specification. I have listed them in order from top best to bottom.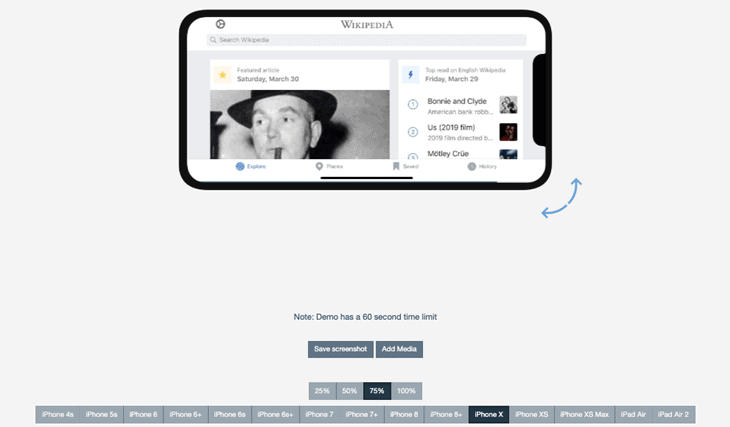 Appetize is the best ios emulators for PC and this is the reason why i have chosen this emulator at top position in my list. This emulator is free of cost and provides a very simple UI.
All you need to done is to upload the apps which you want to run on its website and you are good to go. You can stream your apps or games for 100 minutes at free of cost. You can also monitor your streaming time in the dashboard. To enjoy more streaming you can also buy their premium subscription.
Must Read | 11 Best iCloud Bypass Tools | iCloud Activation Bypass
But in fact the free version is enough for you to stream or test any apps which you are designing. For developes appetize.io is the great space as they do not have to pay for emulating apps.
Platform : Web (Browser Based)
Price: Free and Premium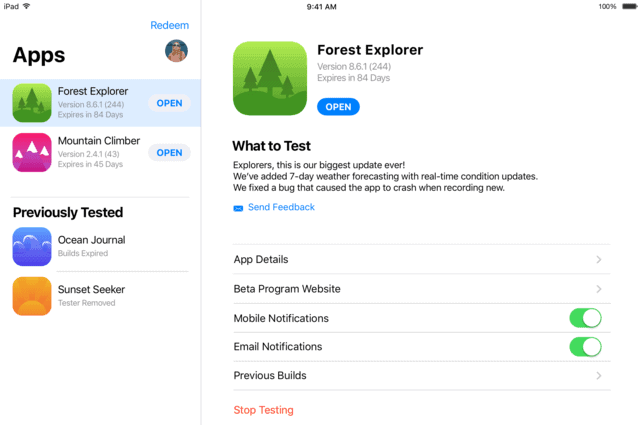 Test Flight is another best ios emulator designed by Apple to test the best version of iOS application deloped by the apple developers. You can also consider this as a officialy Apple's recommended method for testing the apps.
With the TestFlight emulator, you also get a documentation so that you can go through it when you stuck in running apps on emulators. Test Flight supports the various apps like watchOS, tvOS, iMessage etc.
The only disadvantage of this emulator is its technical setup. You may also have to create app store distribution profile.
Platform: Mac
Price: Free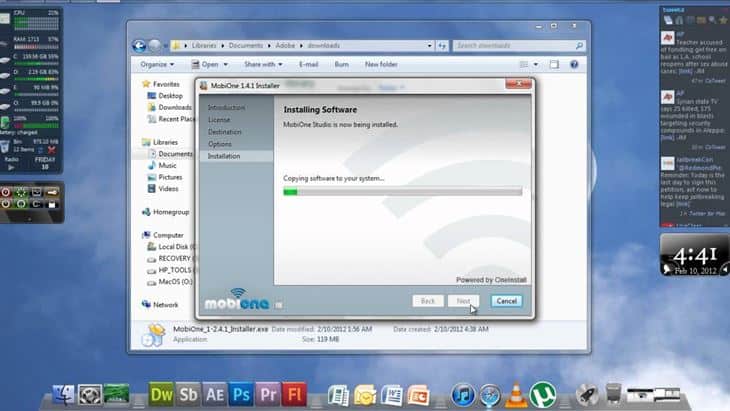 Mobione Stuid is 3rd best iOS emulator in our list which is us to run apps and games on Windows PC. It has an excellent user interface and user friendly design so there is no worry about understanding and learing it to use.
Didi You Know? How to Change Windows 10 Login Screen Background
Officially support for the Mobione is stopped few years ago but still, you can use this emulator for free of cost. I highly recommend this apple emulator to test iOS applications before releasing them.
Platform: Windows, Mac, iOS
Price: Free
4. App.io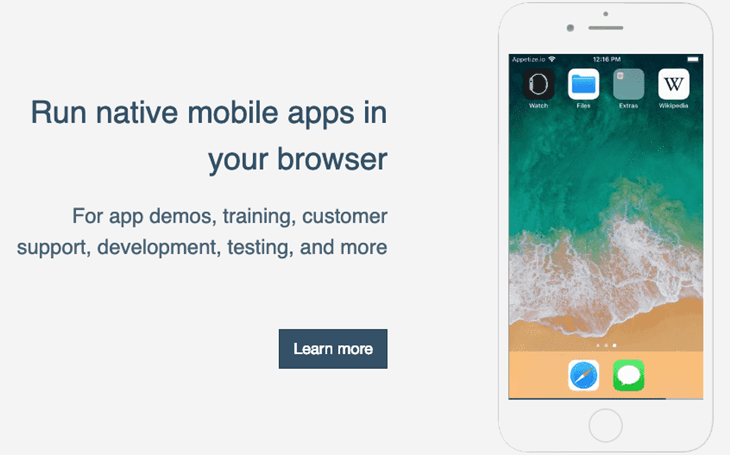 App.io is also one of the best ios emulators for Windows PC in the market which works online. To run the iOS or android application you have to upload the apps iOS zip or .apk file on the website.
After uploading the application you can easily use and navigate through features. Sometime the uploading files takes upto 30 min depending upon your internet spedd and region.
The main advantage of App.io is that it is free for 7 days and also you dont have to install it on your windows PC. You can access it from many devices like Windows or Emulator.This emulator is hosted on cloud so you can use this with any device having an internet connection.
Platform: Web (Browser Based)
Price: Free & Premium
5. iPad Simulator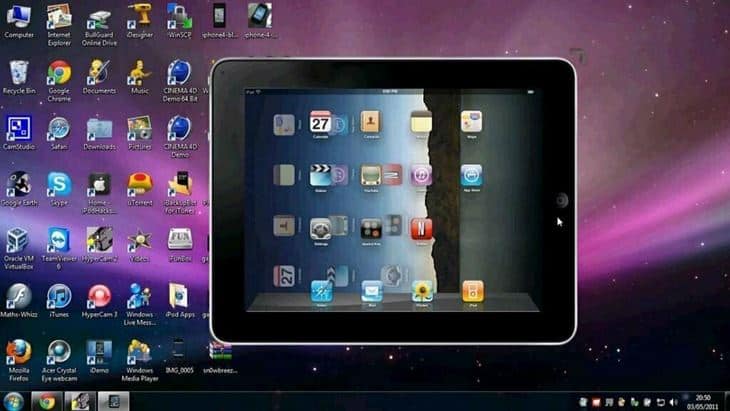 iPad Simulator is the best Cloud iOS emulator for Windows PC. It works on the Google chrome browser with an extension. But due to some reason it is currently not available on the Chrome Webstore but you can download it from below link and enjoy your iOS apps.
It also allows the user to send messages through iMessage and also has siri which is enabled by a single button, You dont need an iOS device all you need a windows PC with chrome broser installed.
Platform: Windows, Chrome Browser
Price: Free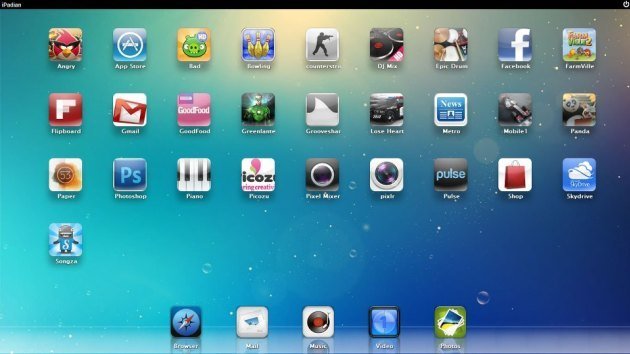 Air Iphone is am another type of iOS emulator which creates a virtual iPhone on your Windows PC. With the help of this you can actually enjoy an apple iPhones user interface. It emulates the same iphone screen and features which you used in iphone mobiles.
It also support the adobe framework which is very helopful for you. To use this emulator in windows you have to download air framework and you are good to play games on Windows PC.
Platform: Windows
Price: Free & Premium
7. Ripple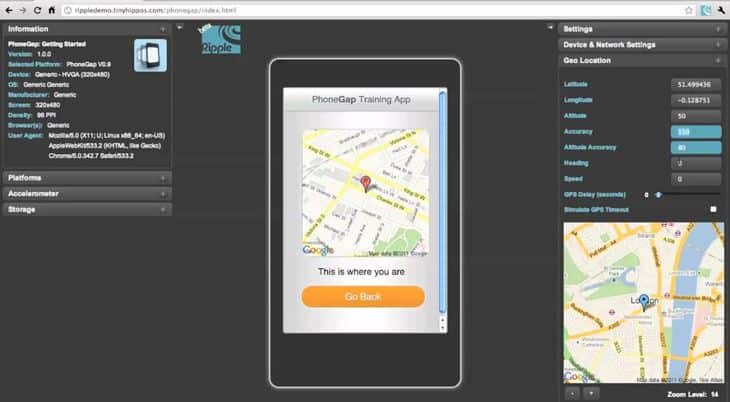 Ripple is an extension based ios emulator for windows PC. It is popular for testing cross platform bole application based on the HTML5 without going through setup process.
To run apps on this emulator all you need to download a chrome extension on your windows Pc and and you can easily run ios apps.
Must Read | Top 10 Best WiFi Hacking Apps For Android Smartphone
If you are a developers then ripple is perfect for you. It also provides features like DOM inspection, JS debugging, Autmoated testing and more. You can also different resolution for your apps so you can test them on different screen sizes.
Platform: Web (Chrome Browser)
Price: Free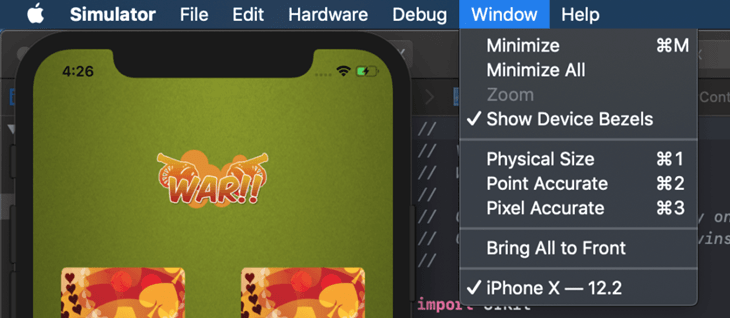 If you are looking for an emulator to play iPhone games on windows PC then you can use iPhone Simulator. This emulator has a great graphic interface which will helps in playing high hend graphic games on windows.
iPhone emulator comes at free of cost and you can create a virtual clone of iPhone's UI very easily to enjoy ios apps and games. So download it from the below link and enjoy iPhone experience on Windows PC.
Platform: Windows
Price: Free
9. Electric Mobile Studio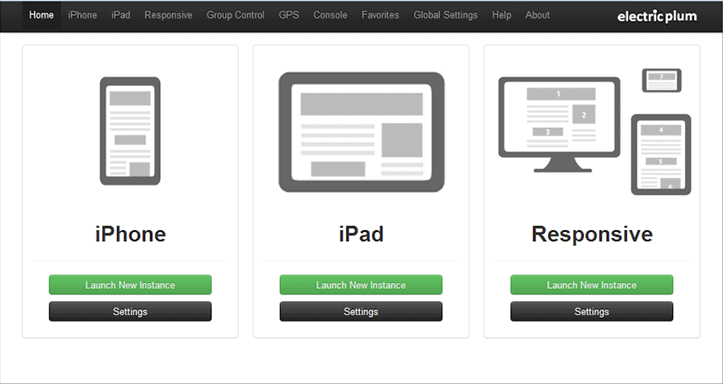 Electric Mobile Studio is a paid emulator which can be used to test the ios apps and games on windows computers. The main features of these emulators are full-fledged emulation for the iPhone & iPads with responsive design.
You can also ues the emulator to run the two applications at a same time wheater you are at home or work. You can also try all the features of this emulator for 7 days before buying a paid version.
The main advantages of this emulator is that it also come with the chrome development tools which are very helpful for a developer to test the ios apps and troubleshoot them.
Platform: Windows
Price: Paid, (7 Day Free Trial)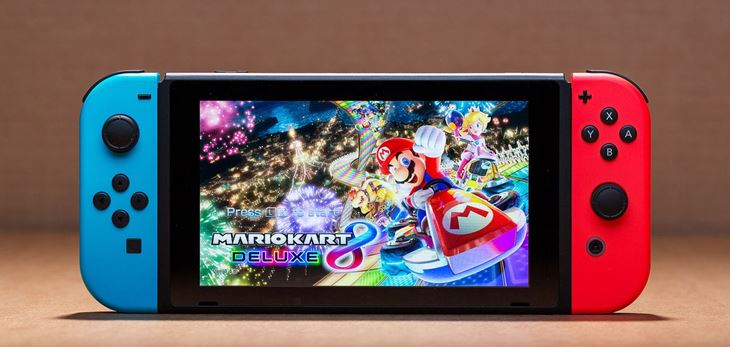 Nintendo is one of the greatest console available for plaing games in the windows Pc. if you are gaming addicted and want to play iOS or Android games then Nintendo will be the best choice for you.
It supports Android as well as iOS applications and games. Means you can run android and ios games in the same emulator. i highly recommend this iPhone emulator for PC to play games.
Platform: Windows, Android
Price: Free
Xamarian is similar to the Test Flight and it is also developed by the Apple to test the ios application acroos different platforms. Mainely Apple developers use this emulator to simulate the ios application on various platforms.
This is an essential ios emulator for windows PC. This also include many developers features such as JS debugging, Visual Studios and many more. It is an highly quality product as it is developed by the apple developers.
Platform: Windows, Linux, Mac
Price: Free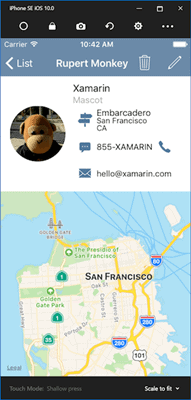 It is another best iOS emulator for Windows PC to test the ios based application. It is a developer focused tool that cames pre loaded with many features such as Xamarin in Visual Studio.
You can also get complete documentation about it on microsoft website to test apps on iOS simulator. It has a simple user interface with the button like home, setting, lock screen and screenshot at the toolbar.
You can enable the functions like Touch ID, Shake gesture and Rotation from setting pannel. This tool also provide iphone like gestures and input style,
Platform: Windows
Price: Free and Paid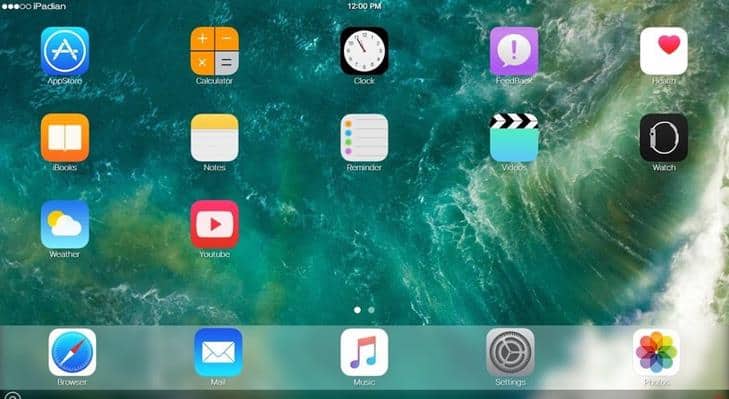 Ipadian is the best Ipad Emulator for windows. It gives you the fell of Ipad in android or windows system. Yet, there are many application are available on the internet claiming that they will give you iPad like experience but they limit their function and ont allow you to test and run the application.
But with the help of iPadian, you can test the fantastic apple features like Siri, tvOS, watchOS and iMeassge. It has a similar interface like iPhone or iPad. You can use this emulator to use ios apps on windows.
Did You Knwo? DeSlide: How to Remove Slideshow from Websites
The UI of iPadian is very user-friendly and it is available free to download. SO that you can test and run ios apps on windows PC.
Platform: Windows, Linux, Mac
Price: Free and Paid
If you are a game lover and want to play iOS 9 or iOS 10 games on your windows Pc then you can use Imame emutor to do that. Yes, it is one of the best emulators to play iOS games on windows PC.
Imame is the best emulator in the industry when it comes for gaming. You can download this emulator from the below link and give a try.
Platform: Windows
Price: Free
iDOS Emulator is the last emulator in our list of best ios emulators for windows PC. It gives you the iOS experience on Windows PC.
Must See | 20 Best Prank Websites to Troll Your Friends
The interface of the iDOS emulator is very easy and clean. Basically it is recommended for the begineers to understand the basics of iOS Emulators. Currently the support for this emulator has been stopped so we will not recommend you to use this emulator because it may contain bugs.
Platform: Windows
Price: Free
Conclusion
So here i am ending this article and i have listed all the best iOS emulators for windows PC. Yoiu can select any ios emulator from the above list and try them for playing games or running ios applications.
Must Read | [Review] Does Clean Master Really Works? Is it safe to Use
If you dont want to install ios emulators in windows PC ypu can also try Chrome Extension which works same. If i have missed any emulator let me know i will update them here.