How To Track Your Windows 10 PC? If You Ever Lost It
Windows 10 is one of the best-operating systems available for windows computers. Since it gets too much popularity because of its features and silky design windows always bring something new for its user.
One of the most difficult tasks for any electronics device is to track them after you lose them. Similarly tracking any windows 10 pc or laptop is previously possible by many third-party tracking software. But after the November update of Windows 10 now it has a GPS tracking system available in the control panel.
It will help you to track your windows 10 pc remotely from any device and any place in the world. All you need a Microsoft account to do so and you are all set. So let's move to the point and set up your windows 10 for GPS tracking.
How to Track Your Windows 10 PC?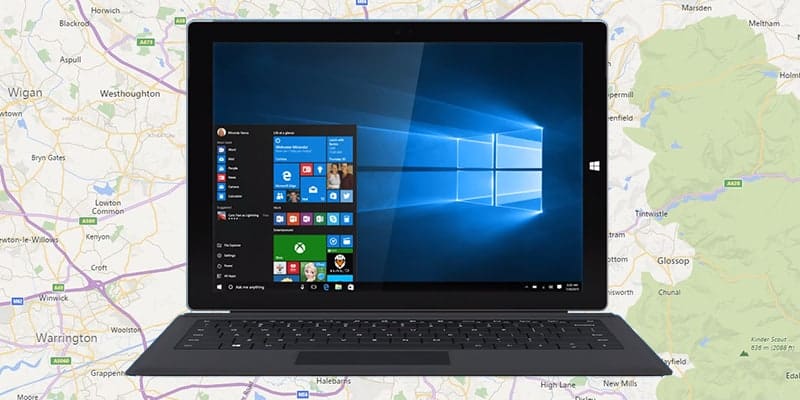 To enable the tracking feature on your Windows 10 device pc you need to do some changes in the windows 10 setting app. By default the tracking system is not enabled in windows 10 pc, you need to enable the GPS and location setting manually.
But once you are done then there is no need to look back again. So let's move ahead and enable find my device in windows 10 pc.
1. Enable Find My Device
This is the very first step to enable device tracking in windows 10 pc. But if you already lost your device then there is no way to do it, But if you dont lose yet then it's better to enable the device tracking and secure your device.
To enable the find my device in windows 10 laptop follow the steps below:
Step 1. Click on the Windows Icon on the Taskbar and open Windows Setting.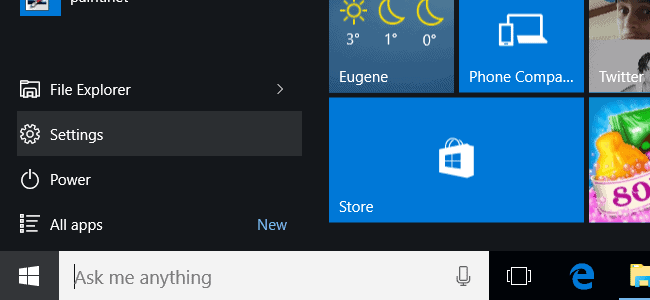 Step 2. Navigate to Update and Security from Setting and go to Find My Device Option.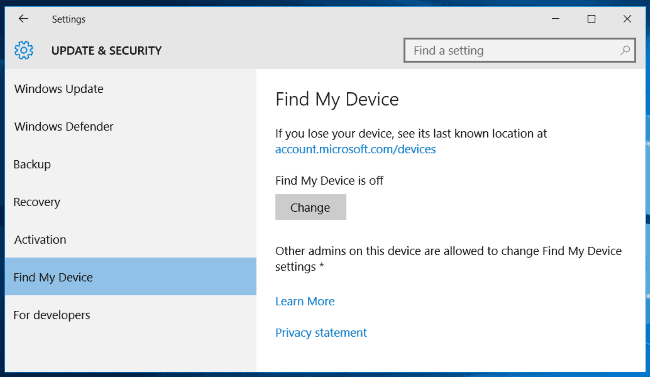 Step 3. Now you will see a message " Find My Device is Turned off" if you haven't enabled it. Click on the change button to enable the device tracking.
Make sure that you are logged in to your windows 10 computer with a Microsoft account. If you dont have Microsoft account create one by visiting Microsoft.
Step 4. Select the Save my device's location periodically prompted when you click on the Change button. It will share your windows 10 location history with Microsoft periodically. This will allow locating your windows pc even when it is power off by providing the last known location.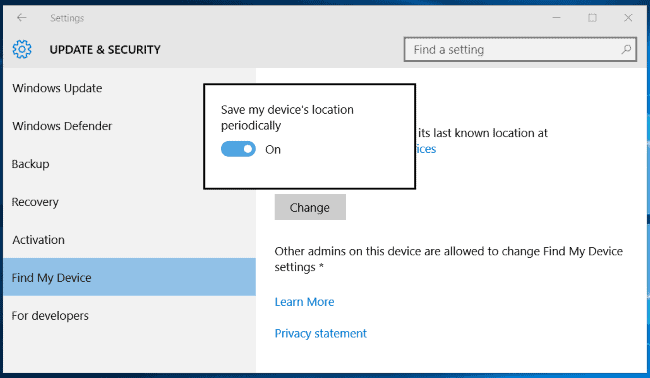 2. Choose Your PC Name
A PC name help in speeding the tracking process when you have a lot of windows device in your Microsoft account. So always give your pc a unique an memorable name.
To do so open the Setting app on PC and Navigate to System About and click on the Rename PC Button. Do you know? How to Change Windows 10 Login Screen Background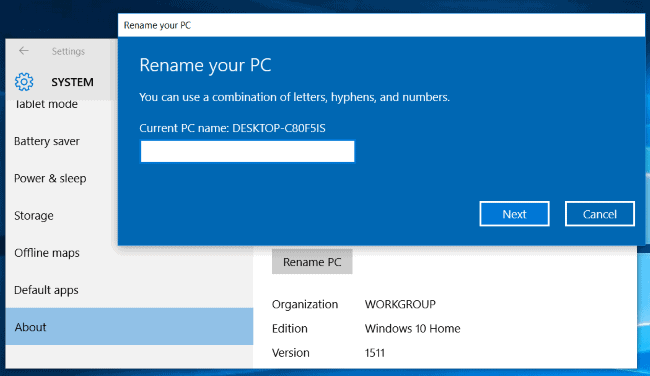 3. Track Your Lost Windows 10 PC
Once you have completed the above two steps now it's time to track your windows 10 pc. Actually your jurney begins from here. If you have missed any one of the above steps it will be difficult to track the pc and you will lose your windows 10 forever.
So make sure that you have turned on the Find My Device option and turn on your location on windows 10. If you have already done it then follow the below steps to track windows 10 pc.
Step 1. login to your Microsoft Account by visiting https://account.microsoft.com devices from any device.

Step 2. Once you are logged into your Microsoft account you will see all your registered devices under my device option. Scroll through the list and look for the device which you want to track.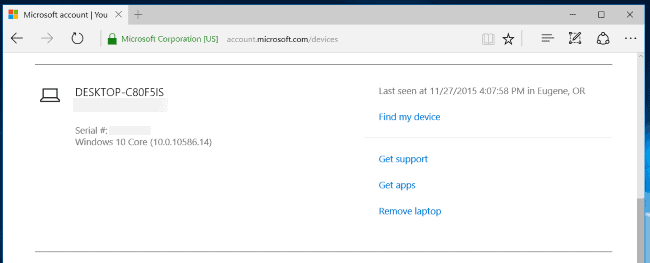 Step 3. Click on the device name and select Find My Device option and you will be prompted with a map and your device last location information.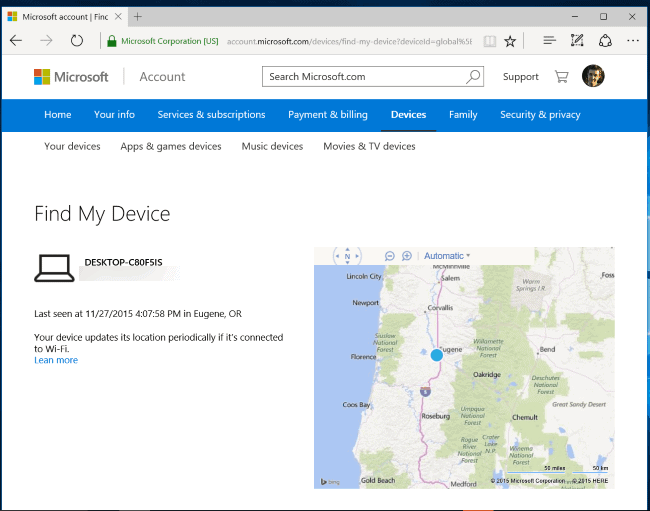 If your device is connected to the internet using wifi, ethernet, or any connection mode you will live location updates on the map. No go to the location and grab your windows 10 pc.
Limitation of Find My Device in Windows 10
Although the method is used to track the windows pc it also has certain limitations which you can't deny. Recently the method also allows users to play the alarm sound, wipe the device data, and lock the device remotely. But all these options will only work if your windows pc is connected to the internet.
If you pc is not connected to the internet using a cellular or ethernet connection you cant access any of the above features and you won't be able to track your device.
Another limitation of this method is that if the thief has wiped up all your device and do a factory reset or change the windows operating system you will not be able to track the windows 10 pc in any situation. Windows 10 does not offer a factory rest protection program while other devices like iPhone and android do.
So always make a habit not to forget your device in public places because the thief is more intelligent nowadays and they also know how to get rid of windows pc tracking features.
Final Words
Windows 10 is one of the most popular operating systems which has millions of downloads worldwide. Even I am using windows 10 because of its features and sleeky design. Apart from this I also care about windows 10 security that's why I configured my firewall and block all the unknown access to the device.
You should also read this | 7 Best Windows Firewall for Windows 10/8/7 PC (Free)
Remember always enable a tracking option in your windows phone or pc so that you can get it back if you ever lose it. There is also plenty of third party application available on the internet that offers more additional features and security options than simple windows 10 find my device.
If you have any problem in enabling the find my device option on windows 10 or tracking your pc comment down below we will surely help and dont forget to share it with your friends or family.