Download Android Multi Tools v1.02b with Latest ADB Drivers
Android multi tools is one of the best tools for the android smartphones to fix problems like forgotten pattern lock, face lock and factory reset. This tool is also known as Android Unlock Tool and it is very helpful for those who always forget their android smartphone password.
There are almost 1.4 billion active Android devices in the market and they probably receive the latest android updates periodically. Along with this android also brought latest screen lock like Face lock and Voice lock.
But this pattern locks sometime become headache for the kids and old age user as they are not good at remembering the android patterns. In such type of situation, one has to go to the service center to reset the android.
What is Android Multi Tools?
It is one of the best android unlock tool which is used to remove the pattern locks from android device. You can also use android multi tools for other works like Reseting the android, wiping the data and entering into fastboot mode.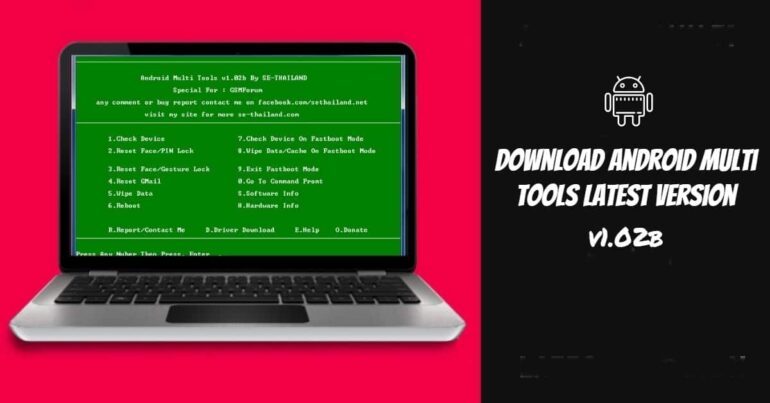 Also Read | GBWhatsApp Apk Download Latest Version 8.25 AntiBan | 2020
Android multi tools is an essential tools for every android service centers and they also use this for various tasks. If you are one of those who forgot android pattern lock then try android multi tool to remove the pattern lock without wiping your data.
Apart from this you can also solve many android problems caused by a software update or a malicious application. You can also check your smartphone hardware information.
Android Multi Tool Features
Remove pattern and another screen lock of any android device.
Wipe all android data.
Check device hardware and software information.
Easily boot into fastboot mode.
It is used to Upgrade or Dowwngrade android device firmware.
Allows you to check device status
Helps you to remove Gmail Account
Quickly factory reset your device
Use to flash android
Use to install the latest ADB drivers for android devices.
Prerequisites to Use Android Multi Tool
To Use the android multi tools in your computer you need to fulfill the following requirements:
You will need a Windows PC with latest updates install. Windows 7, is the best choice for this.
Working internet connect to download android multi tool and ADB drivers for your device.
Good quality USB cable to connect android to PC
Enough storage and a Winzip software to unzip the files.
Download Android Multi Tool v1.02b Latest Version
There are many android multi tools are available on the internet which are outdated and are no more working. So always try to download the latest version of android multi tools so that you can have latest features and updates.
Also Read | Download Aroma File Manager 2.0 Zip Latest Version | Updated 2020
Android Multi Tools v1.02b is the latest version of android unlock tool. With the help of this tool you can perform all the task listed above.
| | |
| --- | --- |
| Software Name | Android Multi Tool |
| Supported OS | Winodws XP, Windows 7 & Windows 8 |
| Size | 320kb |
| Latest Version | v1.02 |
How to Remove Pattern Lock with Android Multi Tool
Step 1. First of all download the android multi tools latest version from the above download button.
Step 2. Now install the software by double-clicking the file name.
Step 3. Once the installation is finished now its time to install the latest ADB drivers for windows PC. Download the latest version of ADB drivers from below.
Step 4. Now enable the USB Debugging option in android smartphone by visiting Setting > About Phone > Developer option.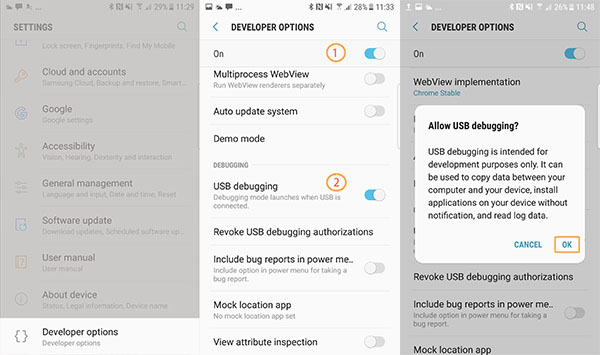 If you dont see developers option here then go to Setting > About Phone > And tap multiple time of Build Version.
Step 5. Turn off the android smartphone and connect to the PC using USB cable.
Step 6. Open android multi tool ver 1.02b with administrative privilege.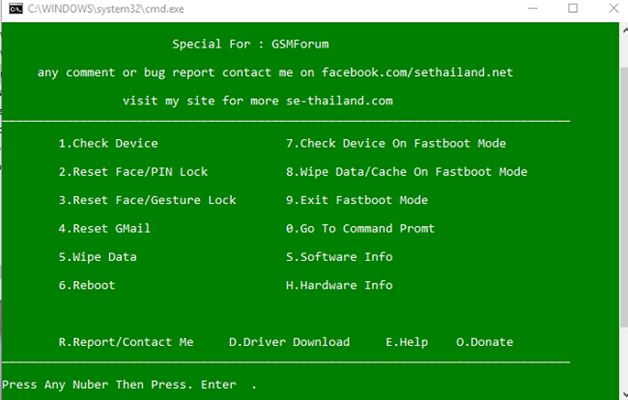 Step 7. To remove the android pattern lock press no. 2 and hit the enter button. As soon as you press the enter button you android will reboot and you will have unlocked android with default slide to unlock option.
Did you know? 25+ Best Xposed Modules for Android (2019)
Congrats, you have successfully removed the android pattern lock with an android multi tools. Similarly you can also use this tool to check your device status, wiping data and to boot into fastboot mode by pressing different assigned keys in command prompt.
Download & Install ADB Fastboot Drivers
Android ADB drivers are very useful drivers to connect android to windows PC to perform different options like resetting the device, using android multi tools and flashing custom rom.
So always download the latest version of ADB and Fastboot drivers for properly working with android smartphone.Follow the below steps to install adb and fastboot drivers in PC.
Step 1. Downloafd latest version of ADB & fastboot drivers from above.
Step 2. Then run adb drivers setup with administrative privilege.
Step 3. Now press Y/Yes to install the ADB drivers & N/No to skip the installing.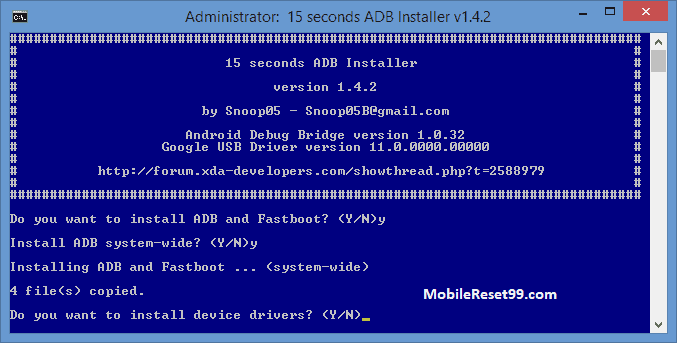 Step 4. After that press Y/Yes to install ADB system-wide.
Step 5. And Now again press Y/Yes to install the ADB drivers in to PC.
Now the ADB & fastboot drivers has been successfully installed to your windows PC. Restart the PC so that it can work properly. Now you can try conneting your device to the Windows PC and perform the task with Android Multi Tools.