Teamviewer Alternatives in 2021: 10 Best Remote Desktop Software
Teamviewer is one of the best remote desktop software to connect with friends or to involve in a business meeting. With the help of remote desktop software, you can easily connect with friends or do your work when you are on a vacation.
Remote desktop software creates a secure network between host and client devices to share important documents by sharing the computer screen. Teamviewer is very popular in remote desktop software.
But in the last some years there is some major issue with its software which tends you to search for the best teamviewer alternatives. Due to all these issues now you need a teamviewer alternative software so that you can continue your work from a remote location.
Why there is a need for Teamviewer Alternatives?
In 2017 teamviewer was hacked and this creates a very serious data issue that leads to the empty bank account of users. But the company didn't do enough for this instead of tightening the security they blamed the users for careless use.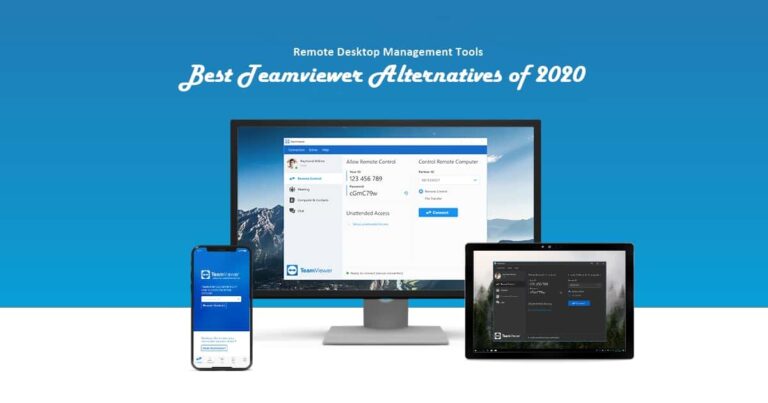 In fact, the teamviewer security is not enough to sustain the attacks by the hackers. Due to this, there are always chances of hacking your private data and information stored in your computer.
Although the teamviewer is very difficult for the starter to set it up properly. If this was not done then there might be some serious privacy issue that could lead to a data breach.
If you are using a teamviewer for your business work then data privacy is the greatest issue. And due to this, you need to replace the software with other teamviewer alternatives. Also, the teamviewer does not provide many features and security as per the price.
Best Teamviewer Alternatives in 2021
There are a lot of programs like teamviewer are available on the internet which is similar or advanced in features. But not all the teamviewer alternatives are best and have great security and additional feature.
So I have done a lot of research on remote desktop software and finally picked up the 10 best teamviewer alternatives that you can really use in 2021.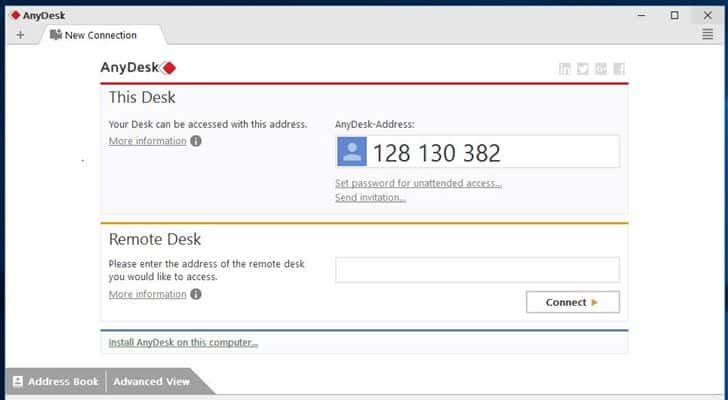 Anydesk is one of the best teamviewer alternatives and provides you almost the same features which you have in teamviewer. Apart from this it also has advanced features like faster data transmission i.e lower latency which will help in an immediate remote control.
Another best thing about the Anydesk is that it supports almost all major operating systems including Windows, Mac, Linux, and Android. You can enjoy faster data transmission with 60 FPS screen sharing, which will increase your video quality.
The other best feature of any desk is that it includes bank-standard TLS 1.2 security technology that means your and remote desktop is fully protected. So there is no risk of any data breaches and privacy leaks.
You can find many amazing features in anydesk such as file sharing, session monitor, recording, and many more.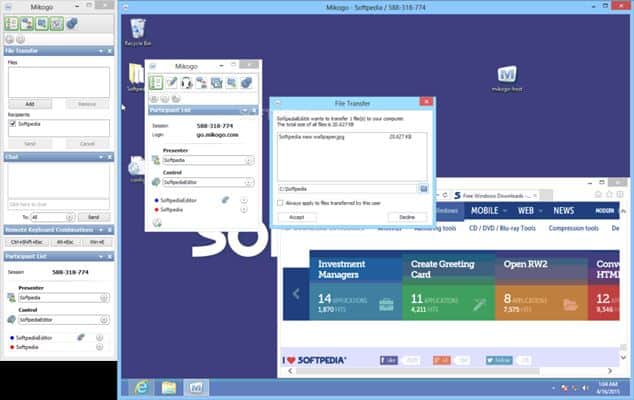 Mikogo is the solid alternative to teamviewer and supports almost all major operating systems just like teamviewer and any desk does. With the help of this remote desktop software, you can connect up to 25 members in a single session.
Also, the swapping of the admin permission is very easy. You can also find popular options like chatting and file sharing during a session. It also provides a whiteboard feature.
While the Mikogo is a quality teamviewer alternative it also offers a free trial for 14 days. You can also grab a standard enterprise version for $80/month in which you can add up to 5 members.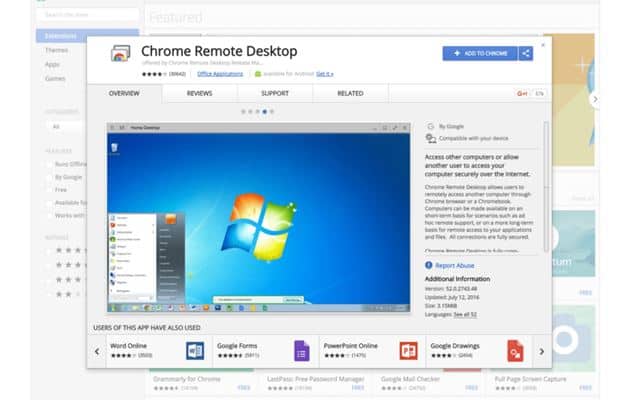 Believe me, this is the best remote desktop software widely available for all platforms including Windows, Linux, and Mac. Chrome Remote Desktop is basically a chrome extension that you can download free from the chrome store.
You can easily control your PC from any other PC using a chrome browser. Yes, all you need is the latest version of the chrome browser and this extension. Like a teamviewer, it allows you to remote control your devices.
But it lacks some features like chatting and video calling which is already there in Mikogo. Still, when it comes to the price it is really worth it.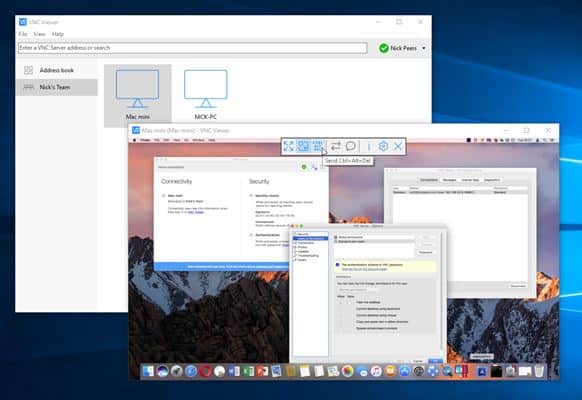 VNC Connect is a powerful remote management program provided by the Cambridge-based company RealVNC. It is the best teamviewer alternative for personal and commercial use. You can get all the features from the internet without any firewall and restriction.
The remote connection from this software is encrypted with 128 bit AES and also password protected from both ends. So there is no need to worry about security on the receiver or sender end.
VNC Connect is available free for personal use while enterprises can pay $55 annually for single PC use. The only drawback of this software is that it does not offer web conference features which will disappoint some enterprises.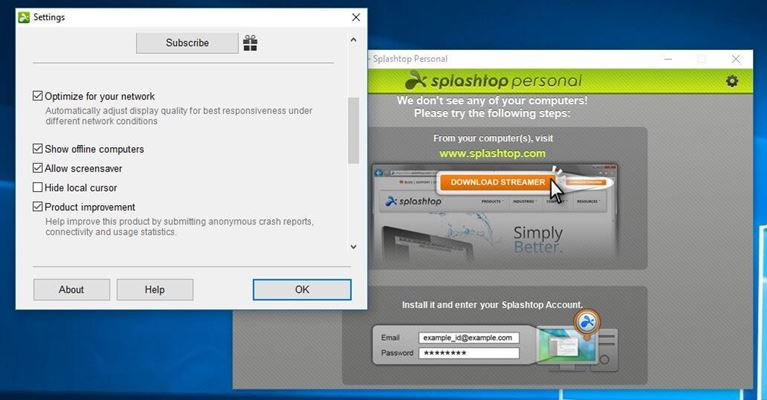 If you are looking for a great TeamViewer alternative in terms of fees then Splashtop is the perfect remote desktop software. This software has empowered with many features like audio and video sharing, file transfer, chat, and much more which makes it really comfortable.
Splashtop has really made progress in the mobile field by developed a faster and user-friendly interface. Not only on mobile you can also use this remote program on other operating systems like Windows and Mac OS X.
In terms of security, it has multiple security levels which include TLS encrypted 256-bit connections. The tool is free for the individual while you can use it commercially with a $59 annual charge per PC.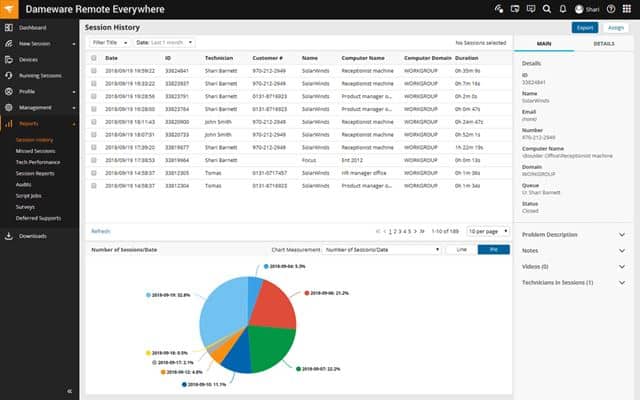 Dameware is the strongest remote desktop management software alternative to the TeamViewer available on the market. You can get this software for Mac OS X and Windows.
For windows users, this is the best choice as it allows admins to add users to Active Directory and easily grant them specific permissions through its AD management tool. You can also reboot, shut down, and frozen remotely connected systems easily.
Not only this you can easily capture a screenshot with one click. But this software is not free, you have to pay a good amount to get this.
As Dameware Remote Anywhere is a cloud best solution it offers ease to ease use and also very low latency which will improve your web conference experience.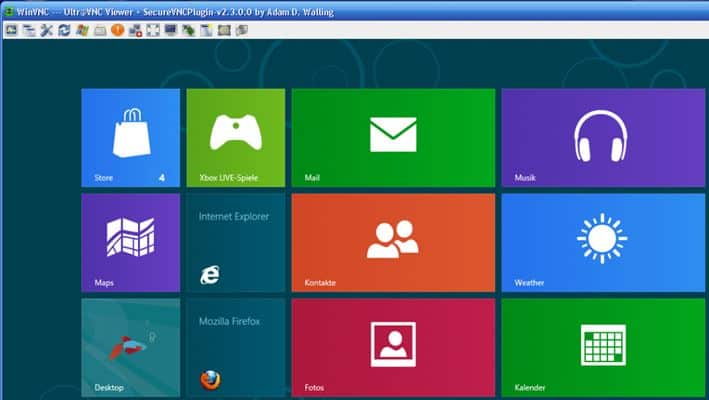 It is open-source software that is an excellent teamviewer alternative for windows PC. Ultra VNC uses the VNC (Virtual Network Computing) principle based on the RFB (Remote Frame buffer Protocol).
With Ultra VNC you can easily control any system remotely from the server or client end. As the software is available open-source for all there are chances of many features to be added in the future. Being open-source software ultra and is available free for all windows users.
You can easily share files between systems and also do text messages. The user interface of the software is a little bit old but still, it is a perfect alternative to teamviewer for the workshop and individual use.
It provides various authentication methods like an eight-digit DES password, MS login I and II to be exchanged.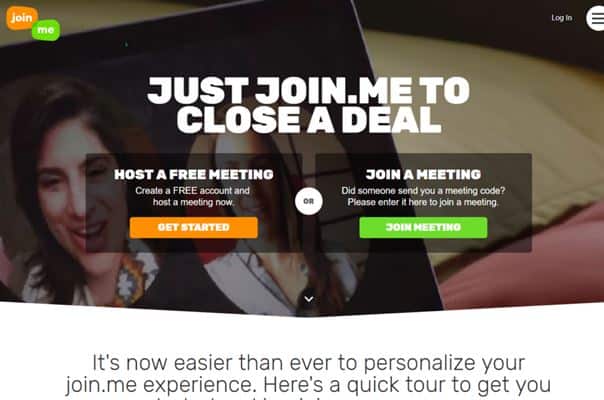 Join Me is a great solution when it comes to doing a remote meeting between in office or anywhere in the world. It is a great remote management tool with auto meeting schedule features.
Like other remote software above it also has a free and premium version. With the free version, you can easily connect up to 10 users at a time and can do video conferences between 5 users. In case your team is big you can go for a premium version which only costs $19 which is a very low price compared to other teamviewer alternatives.
Coming to the feature it allows you to do free basic voice over IP while a premium user can get additional features like Video Chat, Texting, and also screen sharing with snapshot features.
The only drawback of Join Me is that it lacks flexibility and only supports Mac OS X and Windows.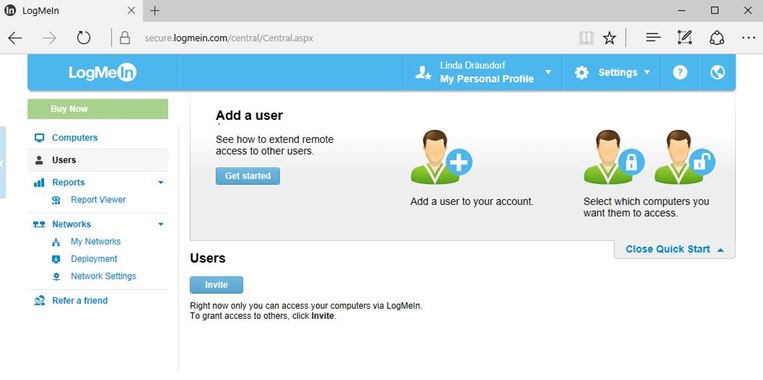 LogMeIn Pro is the cost-effective remote access tool optimizing the allocation and sharing of resources from anywhere in the world without compromising security. It offers you up to 1TB of cloud storage which can be used to store, share and transmit the files between the users.
With the help of LogMeIn Pro, you can easily manage remote devices and also control local printers. It provides you the flexibility in using the software on all devices including Windows, Mac OS, Linux, Android, and is also available on cross-platform browser applications.
You can add up to the 10 team members based on the package you choose. All the sessions in LogMeIn pro are secured with the TLS/SSL. In addition to this, it uses Public Key Infrastructure to identify the servers and the host is verified using a matching secret key.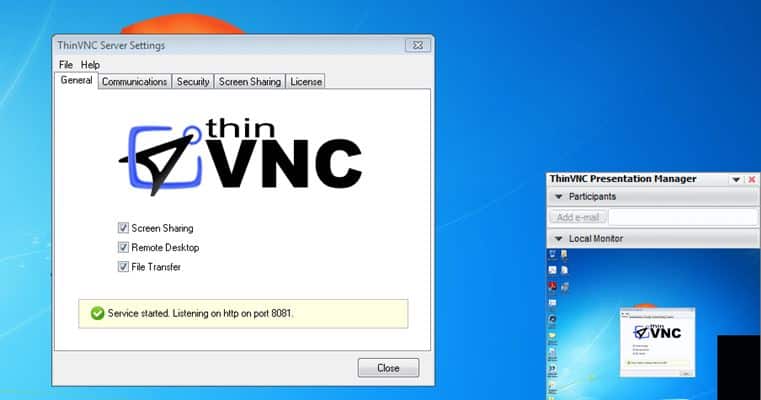 Thin VNC is a beginner-friendly remote connection program with very easy installation and a fast uncomplicated setup. In fact, you dont need to install the Thin VNC, the kit works on all the browsers supporting HTML 5.
You can easily control remote devices using the web browser and for better performance, it also supports JSON and AJAX which is very useful for browser plugins. You can also use thin vnc for file sharing along with the remote connection.
Thin VNC is available for free to download, however, now its code is free open source. And it is no longer maintained by any organization.
Teamviewer Alternatives Overview
So here we end the list of best teamviewer alternatives. I know many of you are confused about which remote management program should you use. In fact, if you are an individual then you should go for free alternatives and if you are an enterprise then you might think twice about the security of the connection.
Almost all the teamviewer alternatives provide better security with TLS/SLS 128-bit or 256-bit encryption. But to simplify the process of selecting one remote program we have arranged them in a table, look below.
| | | | | |
| --- | --- | --- | --- | --- |
| Remote Program | Free Version | Chat Feature | Video/Web Conference | Special features |
| AnyDesk | Available | No | No | Fast Transfer Rate with No installation |
| Chrome Remote Desktop | Available | No | No | Browser Extension |
| Mikogo | Not Available | Yes | Yes | High-Level security |
| Join Me | Available | Yes | Yes | Easy Functionality |
| LogMeIn Pro | Not Available | Yes | No | 1 TB Cloud Storage |
| Dameware Remote Anywhere | Not Available | Yes | Yes | Cloud Solution, Better Management |
| Splashtop | Available | Yes | No | Excellent Audio & Video Quality |
| ThinVNC | Available | No | No | Runs on any HTML5- compatible browser |
| VNC Connect | Available | Yes | No | 128 bit AES Encryption |
| Ultra VNC | Available | Yes | No | Open Source |