Hi mates today, i am going to share a tutorial on installing Kali Linux in any android smartphone. I know many of you search daily on the internet that how to install kali Linux in any android phone.
Kali Linux is a best platform to perform hacking and penetrating tricks. Basically it is meant for the Linux OS but android is compatible to run Linux commands so you can also install Kali Linux in any android phone or tablets.
So if you want to perform some hacking or want to test out a vulnerability in your WiFI then you can use Kali Linux. I know its a little bit difficult when you don't have a good PC to perform hacks. But don't worry in today's guide I am going to tell you how to install and run kali under 5 mins in any android phone.
So lets get started to the tutorial.
Install & Run Kali Linux In Any Android Smartphone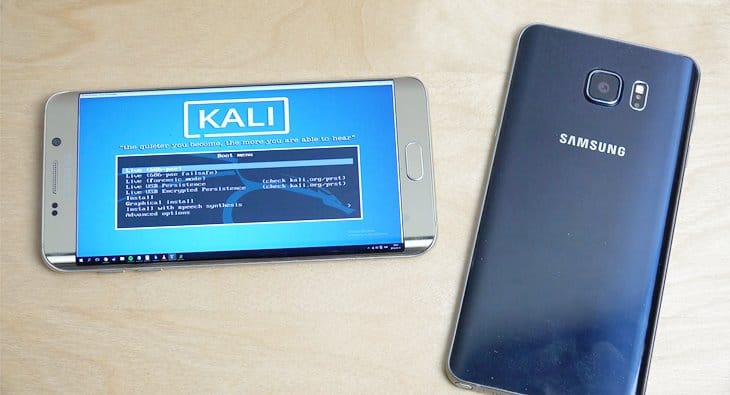 First of all if you want to run Kali Linux in the android phone then you must have to fulfill some requirement to get successful.
Prequisties to Install Kali Linux in Android
Fully charged Android Phone
Good Internet Connection(For Download Kali Linux images)
Root Permission (Rooting Guide for Every Phone)
At least 5GB Free Space
If you fulfill above requirement then you are good to go. You can do any ethical hacking activity from anywhere using your android phone.
I will strongly suggest you to choose a good android phone to run kali Linux. Because if you have a small budget phone with a low RAM and Storage then your phone might have some laggy experience & also some function of kali will not work.
Read Also | Top 10 Best WiFi Hacking Apps For Android Smartphone | 2020 Edition
Try an Android with atleast 3GB RAM & 16GB internal Storage. If you have a Snapdragon procedusre greater the 430 then it would be great. And for downloading Kali Linux images it will take almost 2GB of internet data so ensure you have high speed internet connection and not on a limited plan.
Follow the below steps to start installing kali linux in android.
Step 1. Download Linux Deploy App in Your Android Mobile from Google Play Store.
Step 2. Open Linux Deploy App in your mobile and Click on Download Icon.(Below Right Corner)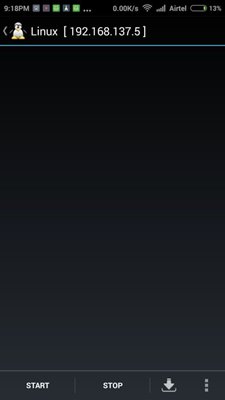 Step 3. Now its time to configure kali Linux image which you are going to download. Keep attention you need to choose right kali Linux image according to your android specification.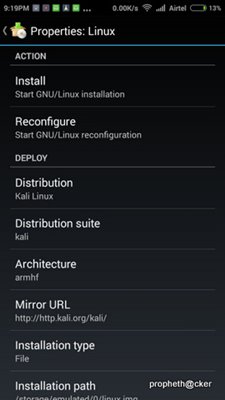 Configure the settings as shown in above image if they are not set as default. When you done hit the install button. If your internet is good the process will taker less then 5 min.
Step 4. Download Android VNC Viewer App from Google Play Store.
Step 5. Now enter below settings in your VNC Android App.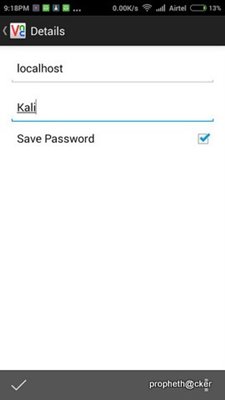 Step 6. Click the Connect Button in VNC Viewer App.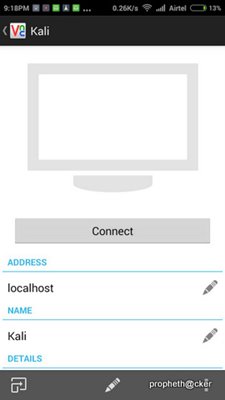 One you click the connect button it will start kali Linux in your android phone. You will be directly booted in kali Linux. From here you can do whatever you want to.
If you have any issue in connecting with kali Linux then it might be problem of your downloaded kali Linux image. A slow internet speed or pause and resume downloading files can corrupt your kali linux image.
If you want to do more amazing thing in Kali Linux then try downloading Nethunter OS for android. Nethunter is a special Kali Linux OS made for android phone. But the sad thing is this os runs in few special Android Mobile Phones.

So if you are lucky it might work in your android phone. If you have a One Plus or Google Nexus device. These are the two android phone which are currently supported by the Nethunter OS.
Visit Nethunter Official Website for download and install Nethunter in your mobile. If You really want to do penetrating or hacking thing then you must install nethunter in your android phone.
Things to do after Installing Kali Lunux in Android Phone.
So if you have installed kali linux in an android smartphone then there are many thing which you can do with kali Linux. If you still stuck on installing then you can drop a comment and i will help you.
You Must Read | 15 Best iOS Emulators For PC [Run iOS Apps on Windows] 2020
Here are some amazing things which you can do after installing kali Linux in an android smartphone. Remember all the things listed below are only for educational purposes.
Hacking WiFi (You needs to use external WiFI Adapter to this. )
Hacking an Android Phone with Metasploit
Cloning a Social Network or Website- Phishing
If you want to hack WiFi with an android phone then you need to use an external WiFi Adapter. An external wifi adapter allow you to go in to monitor mode that will help to sniff the transmitting data packets over WiFi.
Tp-link provides the cheapest wifi adapater that are compatible with kali Linux. Look at the full supported list of WiFi Adapters.
FAQ
Q. Can i use Kali Linux without Rooting my android phone?
Ans. No, you can't use Kali Linux without a rooted android phone.
Q. Does it can brick your android phone?
Ans. Nope, it is not an actual Kali Linux. It is just a sandbox, you can use it without being worried about your android phone.
Q. My installation is on a loop of failure when it is trying to download the Packages.
Ans. It might be because you don't have a good internet connection. Try restarting your router and connect again. I am sure it will work.