Mediacom Router Login Guide with Default Username & Password
Mediacom is providing internet service in the 22 states of united states. And is very popular among the small and household customers. Along with the internet service it also manufactures products like Mediacom router which is a very essential device to connect to internet.
When you buy a Mediacom Internet service these routers are provided by Mediacom to access the internet with high speed. You can also connect many wireless devices like mobile phones and tv with Mediacom routers and enjoy the internet on them too.
Also Read | [Fix] HyperX Cloud 2 Mic Not Working in Windows 10
But many times Mediacom users do not find Mediacom router login and password to access the setting of the router. Which is frustrating for some customers.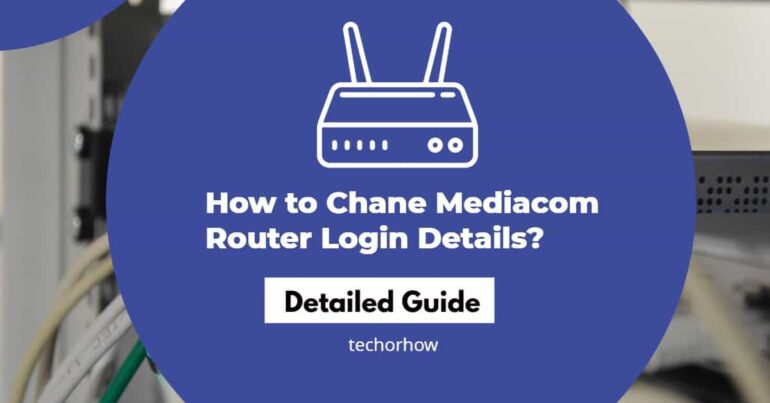 Well in this article I am going to show how to access Mediacom router login page with default login credentials and password. You can also change the routers default username and password easily.
How to Access Mediacom Router Login Page
This is not a difficult task and anyone with a computer can access Mediacom router login page in second. Before proceeding power on your router and make sure your device is connected to Mediacom router through LAN cable or WiFi.
Mediacom routers can be accessed by two methods. First by accessing Mediacom Home Network Manager and another one is by typing router ip address which is normally printed on the back of router.
If you are just setting up the router for the first time then connect your router with the LAN cable to PC and power on the router. Now follow the below steps to access Mediacom router login page.
Step 1: Open any browser or use Google Chrome for best result and type http://homewifi.mediacomcable.com in the url and hit enter button.
Step 2: This will bring a control panel of your router where you need to provide your Mediacom id and password. Default Mediacom id & password are admin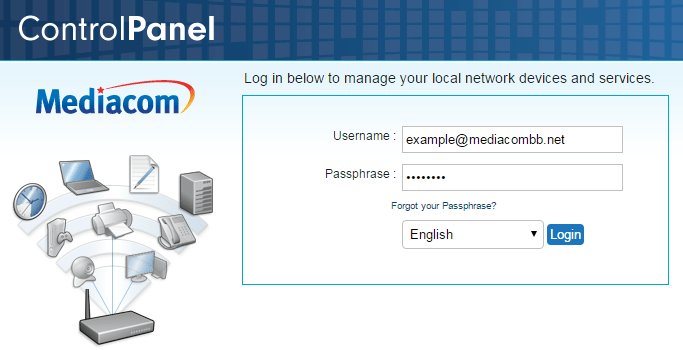 Step 3: Once you fill the mediacom id and password it will take you to the router deafult homepage. Where you can access all routers control function.
Note: If you forget your default mediacom password, then you can request a new password by clicking on the forget password button.
How to Change Mediacom Router Login Details
Default Mediacom Router login and password is admin. But if you want to change default username and password you can do this logging into the routers home page.
Step 1: Login to Mediacom router homepage by visiting homewifi.mediacomcable.com with any browser.
Step 2: Now go to WiFi and then click on My Wireless Network.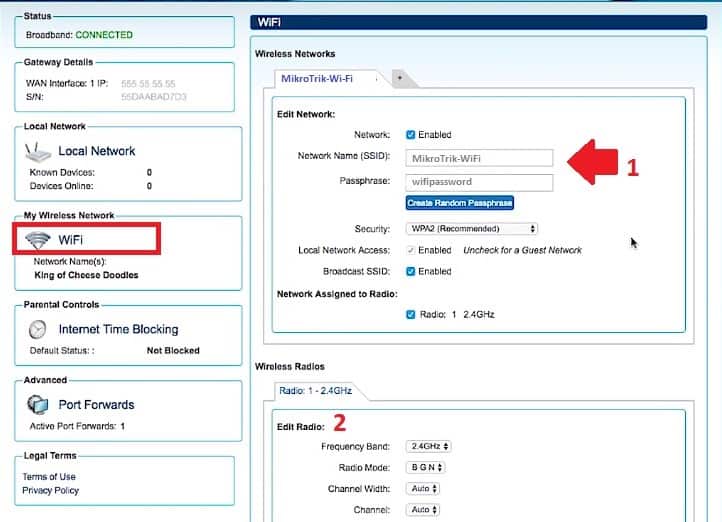 Step 3: To edit the username click on the SSID field and to edit the password click on passphrase area. Now type your new username and password and click on save button.
Once done you will require a new password to access the internet with Mediacom router.
Find Mediacom Router Login IP
Every internet device has its own IP (Internet Protocol) address which is used to identify the device over the network. Similarly, every router has its own ip address which is often called a private IP address.
With the help of this IP address, you can access routers homepage from where you can control router settings including change of wifi password. Aside from these, you can also check your bandwidth used or how many users are connected to your mediacom router.
Do you Know? 10 Best Ethical Hacking Tools in 2020 For Windows, Linux & Mac OS
By default all router manufacturer including Mediacom provides default ip address of router on tha back side. Along with default IP address, default username and password are also printed.
You can use this username and password to access the routers configuration page. If the default ip address has been wiped out you can use below method to find mediacom routers ip address.
For Windows User
Launch Command Prompt on your PC. To do this, click on Win + R buttons and then type cmd. Hit Enter to process.
From the popup window, type ipconfig | findstr /i "Gateway"
Press the Enter button and the IP will show up on your screen.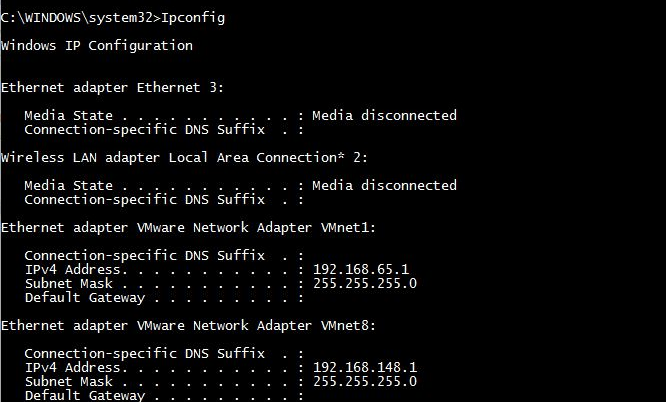 For Apple Users
Go to Finder > Application > Utilities > Terminal to open Terminal Window.
Next, type the following command: netstat -nr | grep default on the blank space.
After that, your screen will display the IP address.
How to Reset Mediacom Router
If you are facing problem in connecting device with the router you can try resetting your router. When you reset your router the system will wipe all user settings and replace them with default factory setting.
You Must TRead | How to Delete Paypal Account Under 5 Minutes in 2020
After resetting the mediacom router you need to login to router with default username and password and have to set up from starting. You need to do all configuration to access internet. So always make a backup of the configuration setting.
To reset mediacom router follow the below steps:
Step 1: Power on your router
Step 2: Now locate the reset button on router which is located at the back of the router.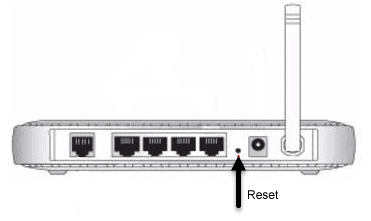 Step 3: With the help of a pointed pen or paper clip press the button and hold it for approx 10 sec. Now release the button.
Step 4: Your router will now reboot. Once the router reboot configures again to use the internet.
---
Wrapping Up
Mediacom Internet service is best in the United States. If you also have problem in mediacom router login try one of the above methods. These all are very simple method which hardy takes approx 5 minutes.
You can always find mediacom router login detail IP address at the bottom of mediacom router. So use them and access the routers control panel to change the setting as per your needs. If you need any other help comment your query in the below box.