Snapchat is one of the best social media networks that pride itself on user privacy. After all user privacy is considered one of the most important while surfing over the internet. Even most of the bigger brands do not care about user privacy.
According to a report, almost all the big brands exchange user data with big giant companies to earn some profit. And all these tech giant buyers use the user data for their own profit like for targeting the users, running a campaign, getting users age, and other data.
But Snapchat has put a step ahead a become a pride in the social media industry. It is also famous due to some of its features like bitmoji, snap streaks, and stories. I really like the message auto-deletion feature that deletes the message after a defined time.
If you have not used Snapchat till now then you must give a try. But if you already have a Snapchat id and want to delete Snapchat account permanently due to any reason then this tutorial is only for you.
How to Delete Snapchat Account Permanently?
There might be various reasons for deleting the Snapchat account, which depends upon the individual. Some might want to delete the Snapchat account because they never want to use it in the future or maybe then want to deactivate Snapchat account temporarily.
So if you are in hurry and want to delete Snapchat account permanently or temporary then I have a magic link for you. This is the official account deletion link by Snapchat, so follow the steps below to go ahead.
1. Go to snapchat account deletion portal by visiting this official link.
2. You can also access this page by visiting snapchat.com, scrolling the bottom of the page, and selecting "Support". Then go to the "My Account & Security" and click on the "Account Information". Finally, click on the "Delete An Account link".
3. After click on the official account deletion link, you will need to login to Snapchat account by entering your user credentials.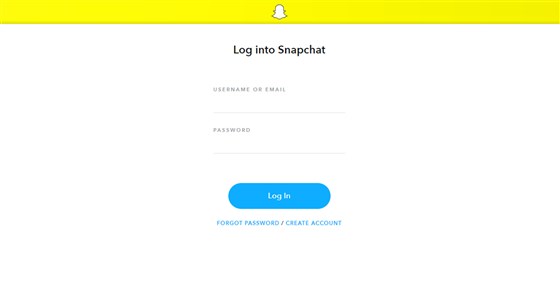 4. Now enter the OTP send to your your registered mobile number and complete the login verification.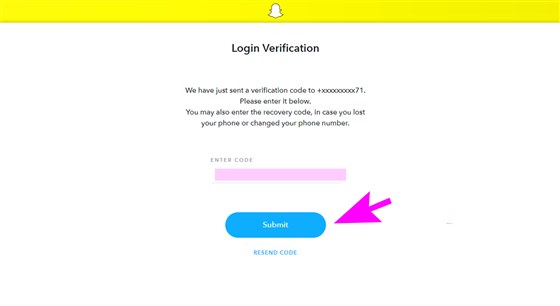 5. Enter your username and password again for the account deletion confirmation and click on the continue button to delete your Snapchat account permanently.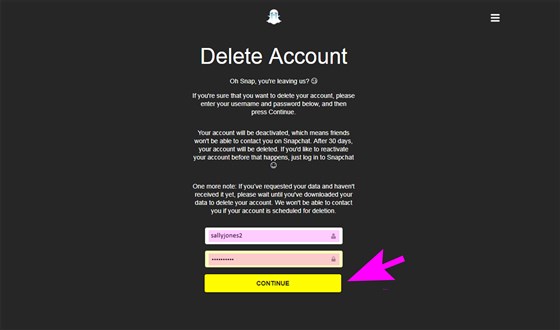 OR
1. Open the Snapchat app on your Android or iOS device and log in with username and password.
2. Once you are logged into the Snapchat tap on your avatar and then gear icon on the left corner to open setting.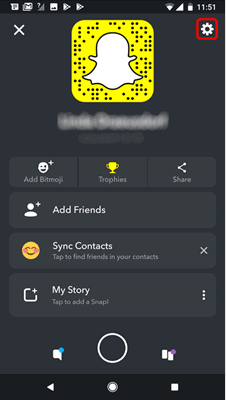 3. Now click on the Help Center and open My Account & security > Account Information > Delete My Account.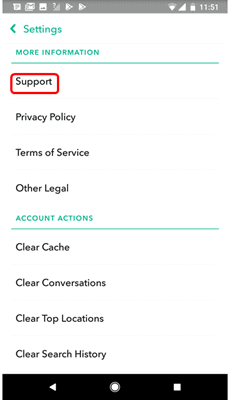 4. Click on the "Delete My Account" link and within a seconds your account will be permanently deleted from Snapchat servers.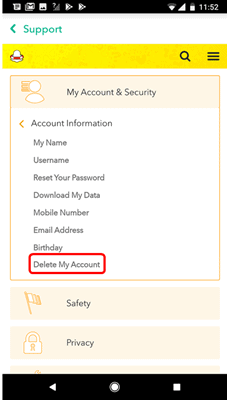 Note: If you want to reactivate your account in the future then do remember your password. Because without your password you can reactivate your account or use a forgot password link.
You might also interested In reading this –
How to Reactive Snapchat Account After Deletion
Have you delete your Snapchat account by mistake or wish to reactivate it in case you need it for various reasons or to take a backup for account data. Well if you have deleted your Snapchat account for over more then 30 days then it is hard to reactivate the account.
But if you have recently deleted your account then this guide can help you to reactivate your account. Once you have deleted your account by one of the above methods, your account goes into a temporary deactivation mode.
That means you have 30 days left to reactivate your account. If you fail to reactivate your account within the 30 days then your account and all its data will be permanently deleted from the Snapchat servery and there is no way to recover it.
Since you have recently deleted or deactivated your account you can reactive your Snapchat account by just login back to the account using your username and password.
On the android or ios device just uninstall the app and reinstall it and login back to the account, it will show you a popup to reactive your account and the time left to permanent deletion. Just tap on the reactivate the account and you will be logged in to your account.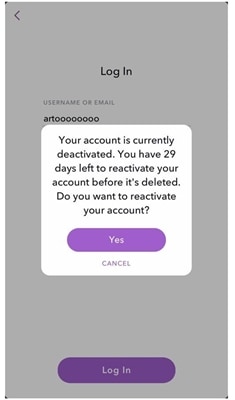 Note: Sometime it will take approx 24 hours to reactivate your account. And also within this time, you cannot change your Snapchat password or use the forgot password option.
Conclusion
I hope this article will help you to delete or deactivate your Snapchat account permanently in 2020. You can use one of the above methods to delete the Snapchat account and it is very easy to just follow the instruction and that's it.
User privacy is one of the important factors and that why some peoples are deleting their accounts from social media. But Snapchat is very good in terms of user privacy. But still, if you have deleted Snapchat account you can reactivate the account within 30 days from the date of deletion.