10 Best Music Player for Android to Rock On Life (Free)
Android is the most popular operating system in the world and this is the reason why developers focus more on developing android apps.
For entertainment purposes, there are many android apps available in Google Play Store. But when you want to listen to music then you must have to use the best music player for android.
Tons of popular music players like Poweramp, Musicolet, Mediamonkey, Pi Music Player, Bluetooth Music Player, and others now ruling over the heart of many android users.
Also, Check | Top 10 Best WiFi Hacking Apps For Android Smartphone | 2020 Edition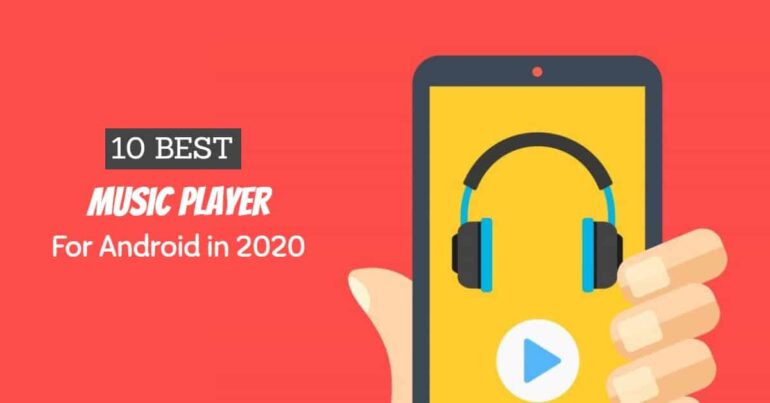 Similar to these apps there are also many music players which can enhance your music listening experience on android.
So today I am going to talk about all the best music players for android. So that you can have a pure and peaceful music experience.
Best Music Player Apps for Android | 2020
With the end of 2019, all the music player apps are also getting updating so that they can achieve a great place in 2020.
So it's time for a goodbye to 2019 music player apps and to welcome 2020 latest and advanced music player apps.
Many music streaming apps are available on the Play Store but I am not going to list them here. The only best and free music player will get a place in this list.
So let, begin the list of best music players for android and rock 2020 with a new experience.
1. Google Play Music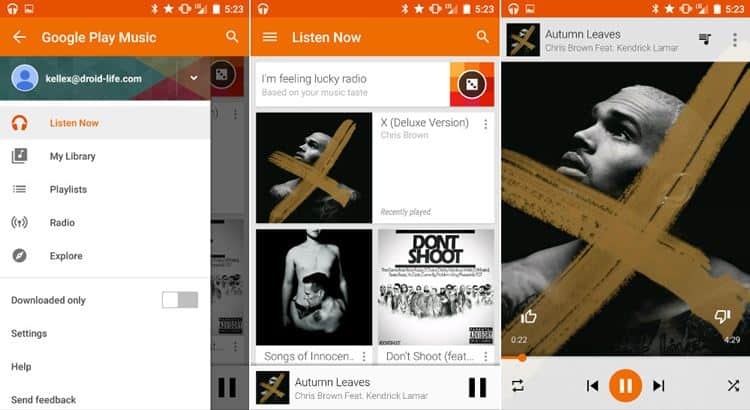 Google Play Music is one of the best music player app for android for a long time. This app is managed by Google Team and receives regular updates .
This music player offers a lot of additional features as compared to an ordinary music player. Google Play Music comes pre-installed with almost every android mobile when purchased.
It has the largest collection of music than any other streaming app,
2. MusixMatch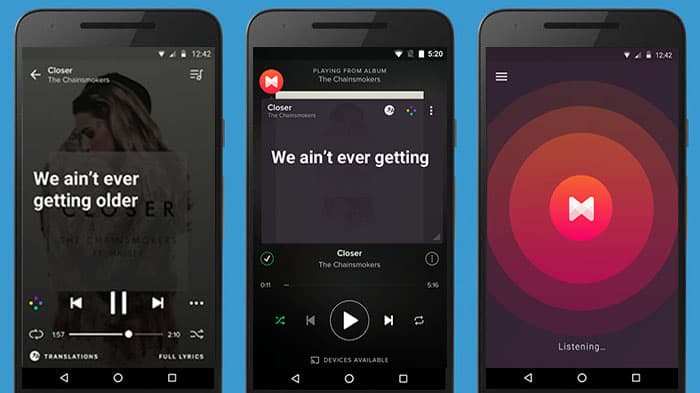 Do you spend a lot of valuable time searching for the lyrics of your fav music? I know it's a very frustrating task to check multiple websites and services for music lyrics. But don't worry, Musixmatch will help you with that.
Must Read | GBWhatsApp Apk Download Latest Version 8.25 AntiBan | 2020
Musixmatch provides lyrics to millions of songs in multiple languages. Here you can listen and get lyrics of popular songs from most streaming services like Soundcloud, Spotify, Youtube, and much more.
This app allows you to search your favorite song by name, artist name, and even with the part of songs lyrics. This music player contains some ads which can be removed by purchasing a premium version.
3. MediaMonkey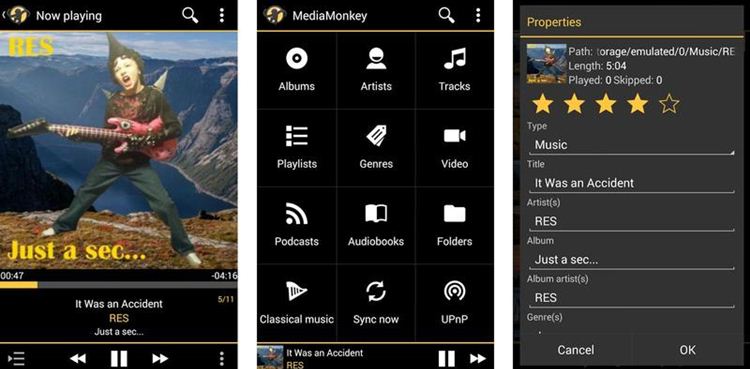 MediaMonkey is another best music player for android with a lot of powerful features that a music player must have. It allows you to listen to and stream popular songs and it is very easy to use.
It has many advanced features such as a Sleep timer, Chromecast, Five Band Equilizer, Intelligent Navigator, and much more. The design of Mediamokey is very smooth and flexible, it manages your file and songs very comfortably.
You can easily add songs to the queue or create and delete a playlist in one click. It also synchronizes your media collection from phone to pc or vice-versa.
4. Pi Music Player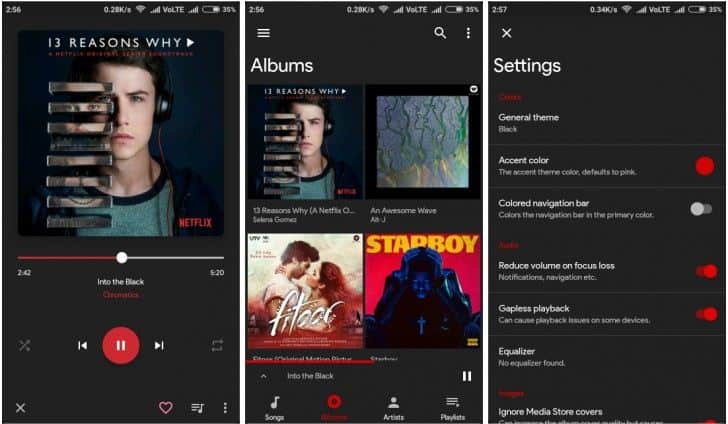 Pi Music Player might not be a powerful and advanced music player like others. But still, it has many features which a music lover would love. It comes with a five-band equalizer, presets, and 3D audio effects.
The best feature of Pi Music Player is Pi Power Share which allows you to share a complete music playlist with another device. So you don't have to create a playlist again on another device. Also, it has an inbuilt ringtone maker which will create a ringtone of any music instantly.
5. Amazon Music Player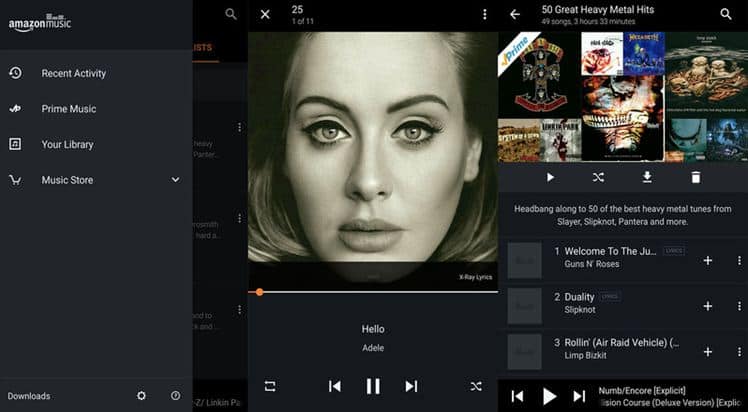 This is another best music player for android provided by the tech giant Amazon. It is great for those who love music of high quality and love international songs.
Amazon Music Player has millions of songs in its music library. With the free version, you can stream an unlimited song in high quality but will contain some ads. You can upgrade any time to prime membership to get Premium Version of Music Player with Prime Video.
You can create, edit and delete playlists easily. Also, you can enjoy your favorite song in your car with the help of Bluetooth.
6. YouTube Music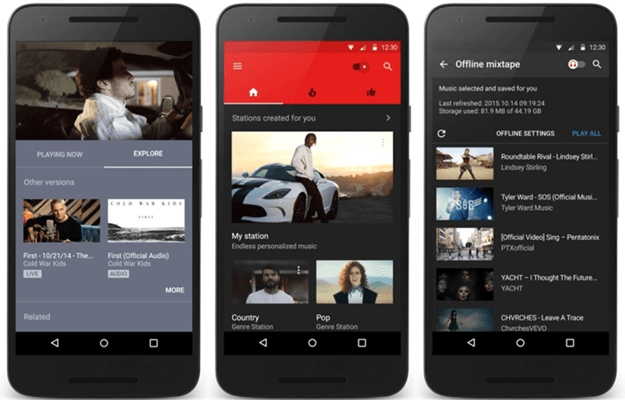 YouTube Music Player is the best music player for android as well as PC. All you need is a working internet connection and enjoy a youtube music player on any device like Android, iOS, and PC.
It is best for one who loves to listen to the latest songs from YouTube. It contains millions of popular songs and also has songs from new singers and youtube channels. You can always upgrade to the premium version to enable music to download and have an ad-free experience.
Check This | Spotify Premium Apk Download Latest Version 8.5 (Updated)
I would prefer this music player for android in 2020 because there are many songs which are singed by new singers which are not officialy available of Services like Spotify and Soundcloud.
But only available on YouTube. Now you can follow them and get latest songs easily with a notification.
7. Musicolet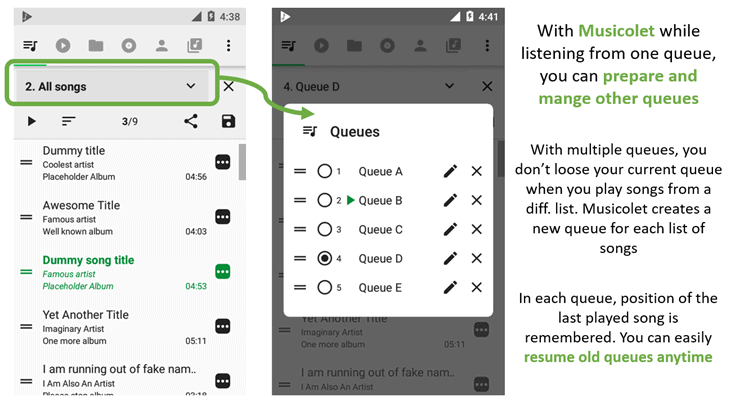 If you are looking for a powerful music player which can play local files, then musicolet is perfect choice for you. It has many advanced and powerful features which are not available in default music player and also in a third party application.
Musicolet is enriched with many features that you can not get even in streaming players. It allows you to add multiple song in queues and also has a sleep timer if you want to stop music after some time.
With the powerful equalizer and preset it provide best music listening experience in earphones and headphones.
8. Shuttle+ Music Player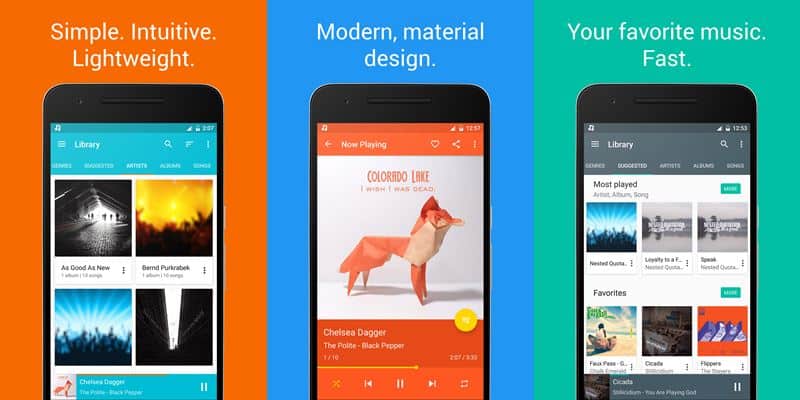 Shuttle+ Music Player, a potent music app for your Android in almost every way possible. Its popularity has been increase a little bit in recent days.
It adopts Google Material design concept to build music player application. Also, you can customize its appearance with the help of many themes and widgets available to download. Shuttle is an open source music player that sounds good for advanced users.
With Shuttle+ you will get a six-band equalizer accompanied by bass boost, gapless playback, ID3 tag editor and scrobbling support among other things.
9. AIMP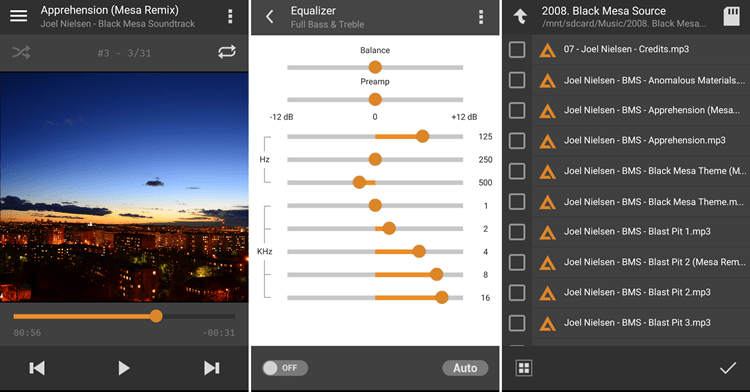 AIMP is a powerful music player app for android as well as Windows. It supports almost all the music files including MP3, FLAC and others. It has very easy and smooth user interface with high performance.
It also allow to theme music player with widgets and custom themes. It already adopts Material Design to increase the overall look and appearance. It has an outstanding Equlilzer, HTTP live streaming, and volume normalization features.
It is definitely a step ahead from most basic music player apps. It also has a desktop version in case you want to listen it on desktop.
10. Black Player EX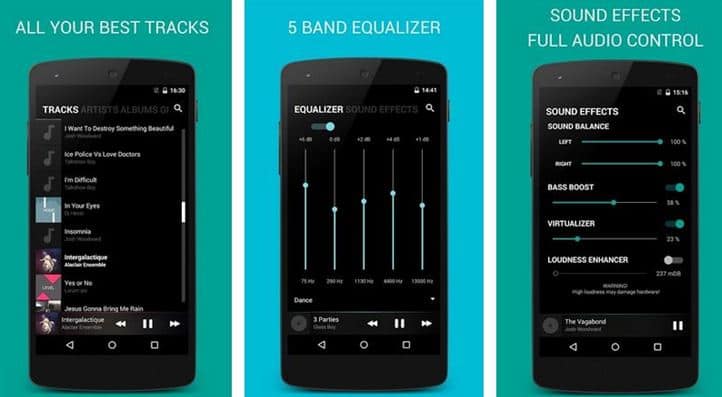 BlackPlayer Ex is one of those music players which has been less know after the arrival of advanced music players. But this music player has simple user interface with best performance.
It is a tabbed music player and you can remove tab which you dont want to use anymore. It also come with five band equalizer as another powerful music player has.
It allows you to control music with help of swipe gestures. You can easily manage the music library with these gestures.