12 Best ISO Mounter Software to Download for Free in 2021 (Windows)
If you are planning to create a backup of your CD/DVD and want to transfer all files in one file so it can be easily transferable between multiple devices then you need to download iso mounter software. ISO Mounting is a technique that packs all essential files in a single file that can be easily created and transferred between multiple devices.
Even Microsoft uses it to create an ISO file of the Windows operating system. You can also create a bootable disk using an ISO file to install Windows 10 or another operating system on your computer. If you are using a Windows 10 PC then there is no need to download ISO mounter software.
As Windows 10 and Windows 8 already provide a built-in ISO mounter that can be used easily without downloading any third-party free ISO mounter software. But if you are using earlier versions of the windows like windows XP or Windows 7 then check out these 12 best ISO mounter software available for free.
12 Best ISO Mounter Software for Windows 10/8/7
There is a lot of ISO mounter software are available on the internet but to help you to decide which one is best we have sorted these 12 best ISO mounter for Windows 10/8/7. These ISO Mounter are perfect in my opinion to easily mount ISO files without any technical knowledge.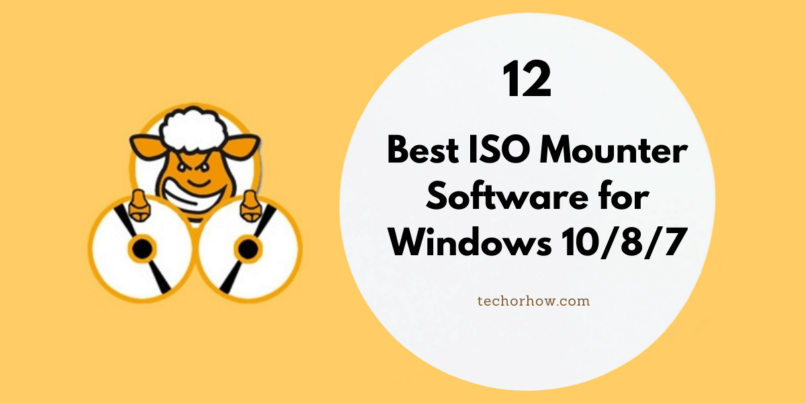 1. Built-in Windows 10 ISO Mounter
If you are a windows 10 user then this is one of the best ISO mounters for windows 10 and also you don't need to download any third-party software to mount ISO files. Windows 10 built-in iso mounter does its job perfectly and allows you to mount ISO files directly from the file manager.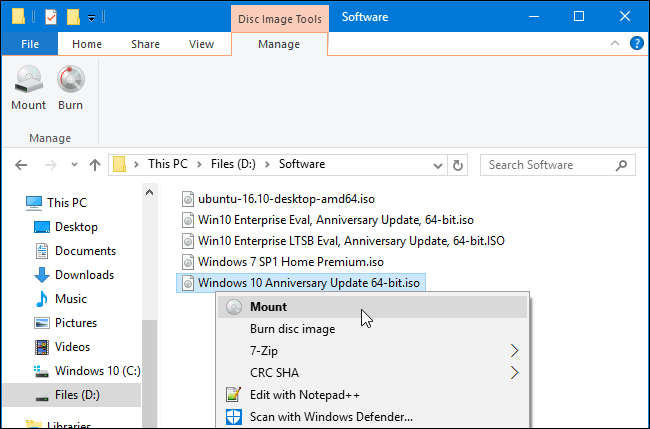 Along with this it also supports other formats such as .7z, .ar, .jr, .tar.gz, and many other. So if you are just looking for a free iso mounter tool then this is one of the best choices for you. However, it is a fundamental tool, and therefore, its features are minimal.
But for normal users and simple tasks, it's a great fit. To mount an ISO file all you have to do is to right-click on the file and select compress and follow the onscreen windows prompt. That's it, it's all done. Choose the file format from here in which you wish to proceed.
WinCDEmu is one of the best iso mounter software for windows 10/8/7 and also other earlier versions of windows. Yes, you heard right it support all version of windows and very small in a size. You can also download the portable version of WinCDemu so that you can perform tasks without installing the iso mounter tool.

It is an open-source ISO Mounter tool that allows you to mount optical disc images by simply clicking on them in Windows Explorer. And yes it is available for free and supports multiple file-formats including ISO, CUE, NRG, MDS/MDF, CCD, IMG. Along with this it also allows you to assign a letter for the recently mounted drive.
This is one of the best things that impressed me. So if you are looking for a free ISO mounter for windows that does all your job just grab the WinCDEmu. There is no need to look at other iso mounting softwares.
If you are a long-time Windows user then you might remember Daemon tools lite. It is one of the oldest and most used ISO mounter software for windows. Earlier it provides all the features for free but now it has been redesigned and also comes with a premium version.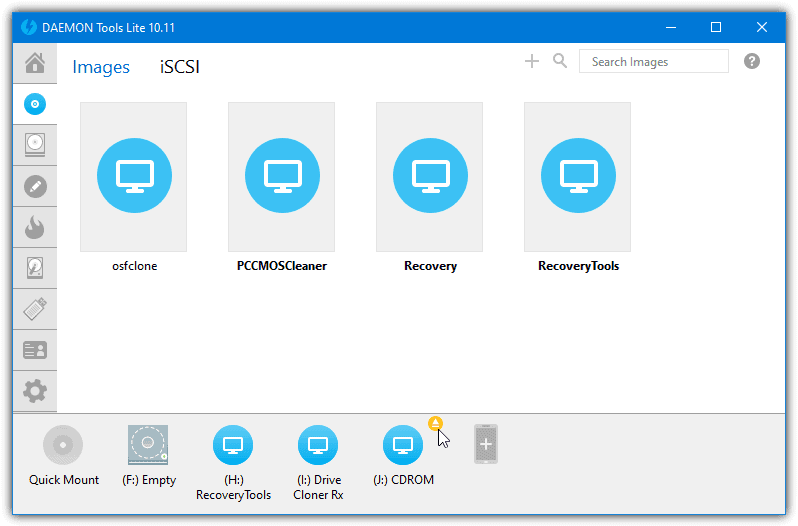 But still, the free version is more than sufficient to do the regular mounting tasks. The free version comes with adware that you can disable using customize the installation of the software. The tool can mount files like VMDK, TC, True Crypt files, VHD, etc. right from the file explorer using the mouse right-click.
Dameon tools lite support up to 3 normal virtual drives but the SCSI option which can emulate disc protections is now disabled. The tool also allows you to share the mounted iso file with the local network.
ImDisk Toolkit is an open-source and free iso mounter software that is redesigned to add a more user-friendly interface along with new features and tweaks. This all-in-one-package includes the ImDisk Virtual Disk Driver, the DiscUtils library that extends the number of supported image file formats, and adds several GUIs and features.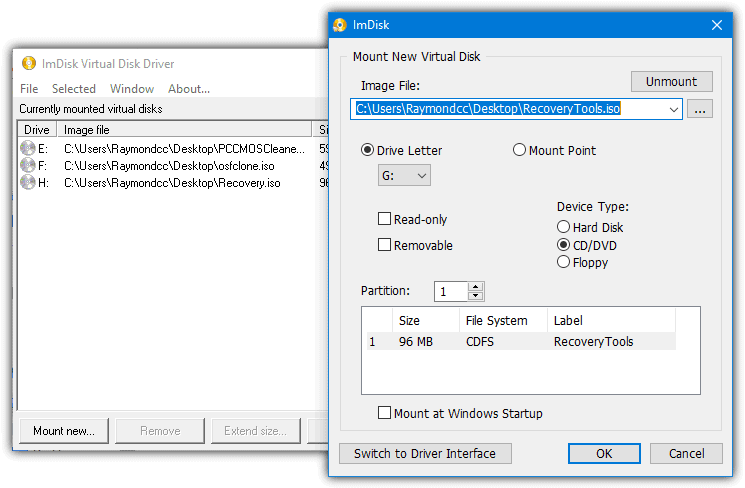 This makes it much easier to use. ImDisk can also mount and create Ramdisks but if you don't want to use it the option can be turned off during install. To mount an ISO file just right-click on the file and select mount as ImDisk. You can also assign a letter to the mounted drive and if you want there are also other advanced features that you can choose from the mounted image prompt.
Launched earlier in 2013, Microsft Virtual CD-ROM is still one of the best iso mounter software for windows 10 and earlier versions of windows too. The tool has been discontinued now with the launch of the inbuilt windows 10 iso mounter.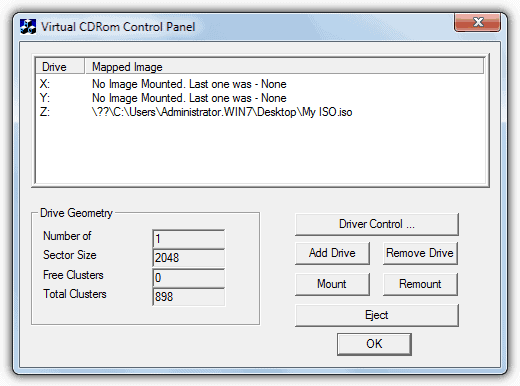 But still, this tool is functional and sufficient to do simple tasks like mounting iso images right from the file explorer. The user interface of the Microsoft Virtual CD-ROM is very simple and user-friendly. To mount any ISO file all you need is to right-click on the file and select mount image. From here you can also check other features available in the control panel.
The only problem with this tool is that it supports a 32-bit version of windows. But apart from this, it is very small in size around 60KB in size consisting of only a driver file, an executable, and a Readme file. It is super portable but you need to take care of the drivers manually.
Gizmo Drive is another best iso mounting software for windows that you can use to mount a file including file formats such as IMG, ISO, BIN, NRG, CUE, etc. It is a completely free tool but also offers dozens of premium features.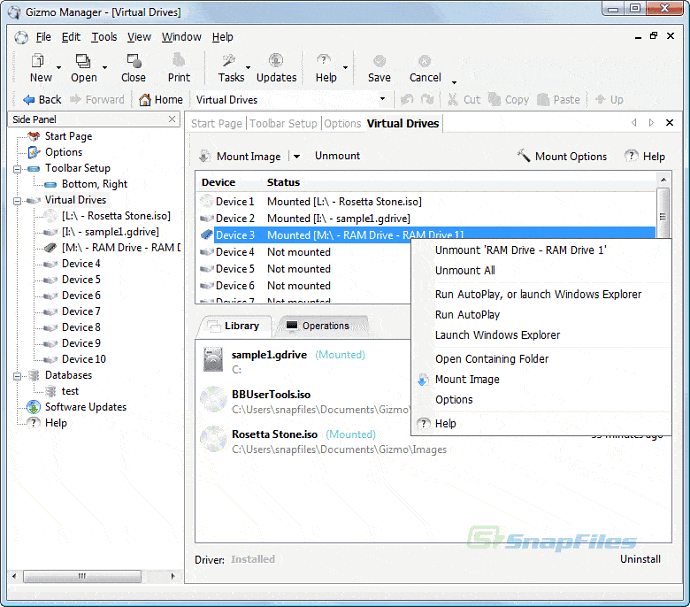 Along with normal ISO files, it also allows you to mount virtual hard drive files such as VHD. For safety reasons of the file also provides a password protection option. That means now transferring files becomes even more secure. But due to all these advanced features, it becomes quite complex to use.
This means It is not as straightforward as many other tools on our list, you need to be more technical while using the ISO mounting. Also, Gizmo Drive only supports windows 7 and earlier versions. So if you use the latest version of windows you need to go ahead with other ISO mounter software in the list.
Virtual Clone Drive is another best iso mounter software for windows in the list. It is one of the oldest iso mounters for windows released back in 2005 and has not been updated since 2016 but still, the tool is fully compatible with windows 10.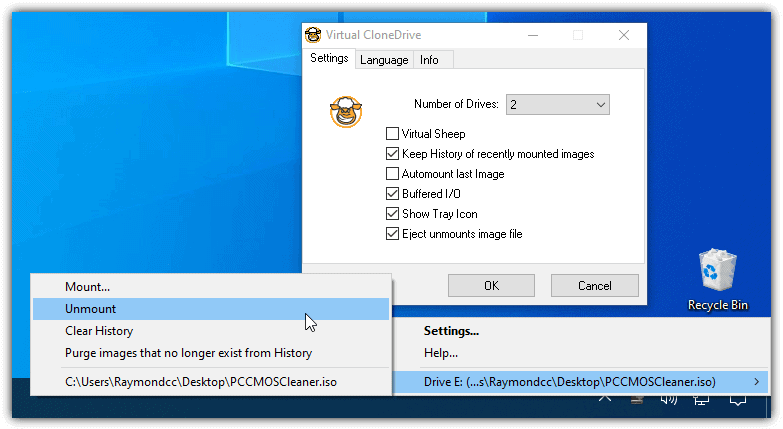 The tool is built by keeping only one function in mind that is mounting the iso files. It does not offer a wide range of features but supports multiple file formats such as BIN, IMG, ISO, CUE, etc. Being a free version of the tool, this is more than sufficient.
To mount an ISO file you can click on the tray icon in the taskbar and select individual files to mount and also you can unmount files right from here. It also offers a feature to automount ISO files which is earlier mounted with the tool.
WinArchiever was built by Power Maker back in 2012, Power Maker also makes other powerful disc-burning software such as PowerISO, gBurner, and the freeware disc-burning software Anyburn. Although this ISO Mounting software is very old still it supports all file formats including .zip, .7z, RAR, WIM, CAB.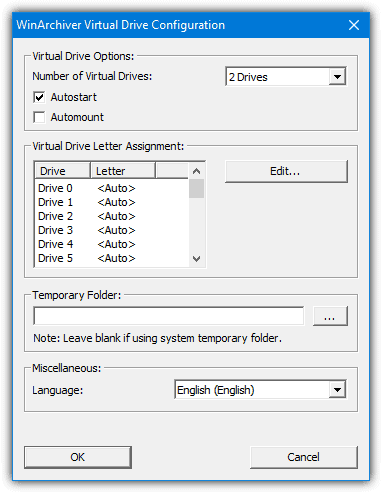 And the best part is that you don't need to extract the files you can now directly mount the files or burn them on a disc. The tool supports around 25 different image formats. As we mentioned gBurner is also developed by Power Maker but it is slightly different from the WinArchiever.
Even though it is built recently in 2018 and has a better user interface but I prefer WinArchiever more due to the temp folder portion and around 25 different image formats. The WinArchiever is fully compatible with windows 10 and works without any issue.
OSFMount is one of the best ISO Mounter Software for windows 10. If you are searching for a simple and fast tool to mount ISO files then OSFMount is the right pick for you. It comes with PassMark OSForensics so that you can quickly analyze the disk file.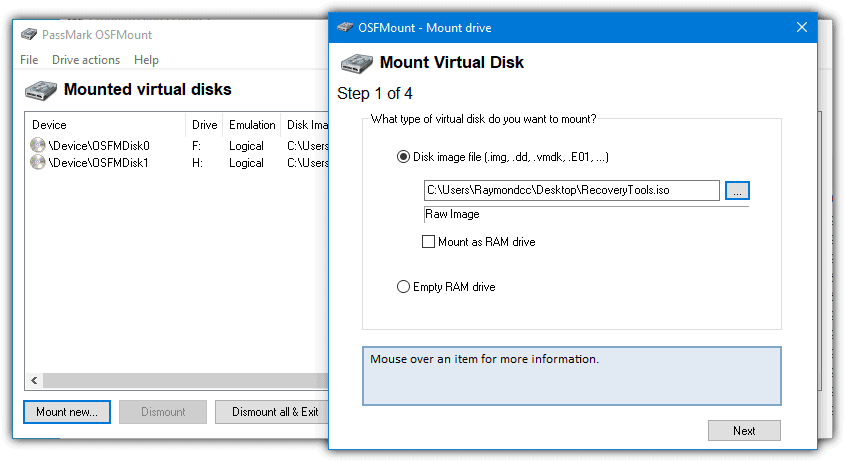 The tool supports more than 11 image file formats and also provides some advanced features like mounting the ISO as a virtual RAM drive or creating a new RAM drive, mounting as a removable drive, and selecting the drive emulation and type.
OSFMount mounts the ISO files as read-only, this means it doesn't alter the original file. To mojnt an ISO file just select an ISO file and click Next > Next > Mount.
ImgDrive is another best ISO mounter for windows but it does not get much attention over the internet even though it is very light weight and simple to use. The tool comes with a portable version that can be transferred to any other computer and can be used with driveres.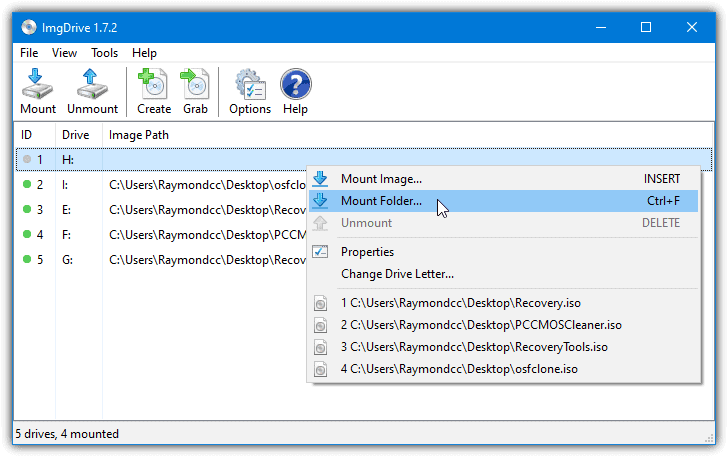 These drivers can be reomeved easily once you leave the program. The ImgDrive can mount up to 7 files at a time and supootrt up to six different files. You can mount any file right from the notification tray or from the GUI. The tool also provide command line to mount batch files.
Along with this ImgDrive also allows to mount any folder from the disk to mount as virtual drive. There's also a couple of options to create an ISO from a folder or from a physical disc.
DVDFab is one of the best virtual DVD/Blu-ray emulator that can emulate up to 18 disk at a time and support up to 8 different disk types. It allows you to mount a DVD or Blu-ray ISO image or folder so it can be played in a media player like PowerDVD. It is a standalone tool that can be found in DVDFab suite.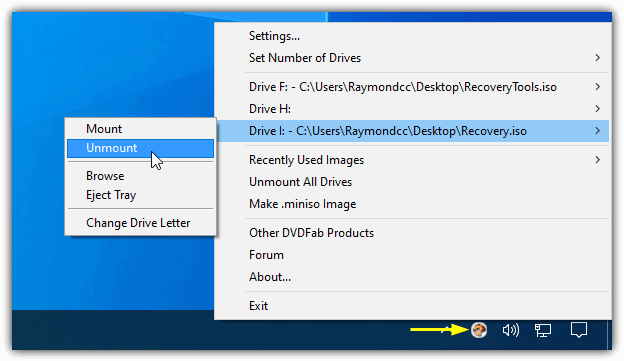 This all makes DVDFab as one of the best ISO Mounter Software for windows. You can use this tool in any version of the windows starting from XP to Windows 10. Similarly like above free iso mounter software the most of feature like mounting and unmount can be accessed from notification tray.
Alcohol Portable is the last best ISO Mounter Software for windows in our list released by Alcohol Soft back in 2015. It is a personal use tool that can be installed from anywhere as a portable tool. The tool support up to 4 files at a time and allows a dozens of different file formats.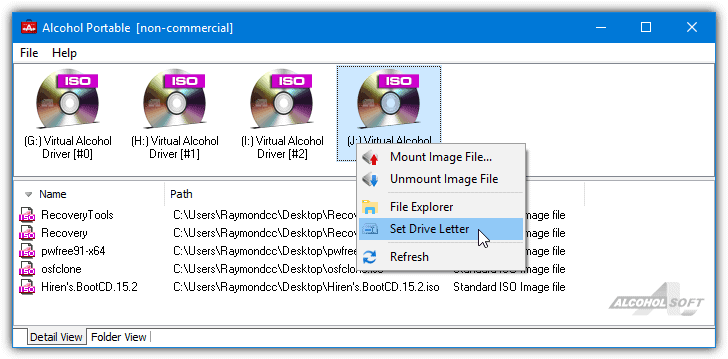 To mount the ISO just drop the file in the upper part of the windows and it will mount automatically. Right click on a virtual drive to unmount, mount another ISO or change the drive letter. Tio add more files in the role just drop them in the lower half of the windows.
If you done your work just click File > "Exit + Remove Device Driver and Service" to remove it from the system completely. Alcohol Portable is a freeware tool but it comes with Crapware called Smart File Advisor that cannot be removed without removing the Alcohol Portable.
Conclusion
Thats it, I have finished with the best 12 ISO Mounter Software for windows 10/8/7 and even for the older versions. Just pick the one according to your operating system and start using it. If you areb using a windows 10 pc then I will recommend you to use windows builtin ISO Mounting feature.
Its all depend upon you and the kind of work you do with the best ISO mounter software. If you face any error while installing and using the software drop a comment and lets us know.