Windows 10 is a very resource-intensive operating system. Sometimes your physical memory is not enough to run all the processes at a time. In this type of situation, there are high chances of crashing the system.
But Microsoft teams have a fix for this through a special paging file called "pagefile.sys". Pagefile.sys is basically a swap file that is designed to improve Windows performance. It is a portion of the hard drive that acts as virtual memory.
As I said earlier when your windows physical memory (RAM) is insufficient to handle the process of the pagefile.sys act as a virtual ram and power the windows to keep the running process without crashing the system.
What is Pagefile.sys?
Pagefile.sys is a swap file that is stored on the hard drive and acts as a virtual RAM for the windows to provide a smoother experience. This file is divided into serval parts to provide a better performance and is stored inside the C drive of the PC.
| | |
| --- | --- |
| File Name | Pagefile.sys |
| File Size | Approx 12GB. But depends upon the physical memory. |
| Location | C:\pagefile.sys |
| Description | A swap file that acts as a virtual RAM to improve the windows performance. |
| Is it a Virus? | No, it is a system file. |
| Can i delete it? | Yes, you can but not recommended as it will disturb the windows performance and you might fall in trouble. |
If your windows physical memory doesn't have enough capacity to hold another data, the files are paged on the pagefile.sys. It acts as a backup for physical memory. The RAM stores the data for a temporary period.
Also, Read | [Fix] HyperX Cloud 2 Mic Not Working in Windows 10
But the Pagefile.sys stores the data until you delete it yourself. It also acts when your pc crashes suddenly or power interruption. If you have installed windows on an SSD drive then the paging speed will increase 10x faster than physical memory.
This is why windows use the pagefile so that the users will never face any issue while operating with the system. This increases the overall performance of the pc along with a backup option to RAM.
How to Delete Pagefile.sys?
So you want to delete pagefile.sys? However, it is not recommended by the expert as it will lead to many problems like lower performance, pc crashes, and abnormality of the system.
But if still you to delete the pagefile.sys to free up some storage on the drive then follow the below steps.
Step 1. Show hidden files. To do this you need to go to File Explorer and on the upper panel select the View option and check "Show hidden file option".


Step 2. Sometimes you will not see the system-protected file by this also. To see system protected file click on the View panel and select Option, from here click on "Change folder and search option".


Step 3. Click on View Tab under the Folder option and uncheck "Hide protected operating system files".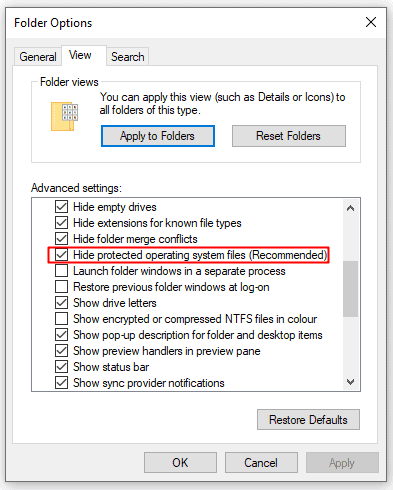 Step 4. Navigate back to the C:\ and you will now see the pagefile.sys. From here Right-click on the mouse and select Delete.
How to Resize, Move and Manage Pagefile
Windows automatically manage the page file for you. It automatically creates and resizes the page file according to the physical memory and system need. But however, if you want to manage pagefile.sys manually then you do this from Advanced System Setting.
To resize, move and manage the pagefile.sys according to your need follow the below steps carefully.
Step 1. Click on start and type Advanced System Setting in the search area and hit enter button.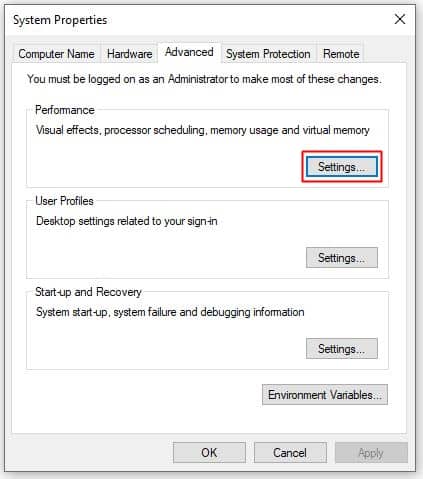 Step 2. Click on the Setting button under Performance. Now go to the Advanced tab option and select the change option under the Virtual Memory section.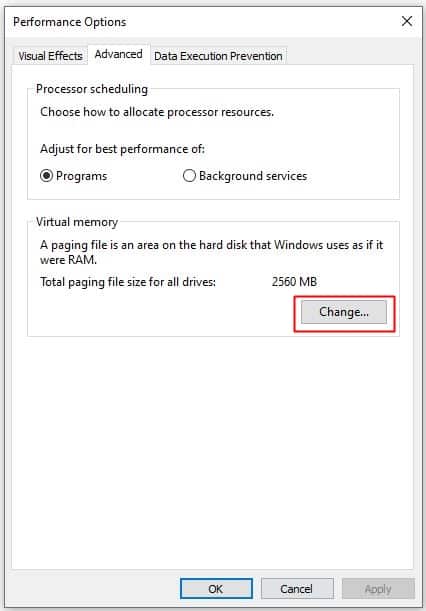 Step 3. From here you can resize the pagefile.sys according to your need.
Step 4. Restart the system to apply effects.
You can also move the page file to multiple locations on multiple drives to improve the performance. Note this will only work between two different drives, not between two partitions of the same drive.
FAQs
Can I delete pagefile.sys?
Yes, you can delete the pagefile.sys as long as you know what are you doing. However, it is not recommended by the experts as it will mess up your system performance.
Is it safe to delete pagefile in windows 10?
We do not recommend you delete a system file in windows. Since the pagefile act as virtual memory for the windows, you will face performance-related issues and system abnormality.
Do I really need pagefile.sys?
Of course, you really need it. It helps windows to work smoother and carry process 10x faster than physical memory and save windows from a crash.
Where is pagefile.sys is located in windows?
Pagefile.sys is located under the C:\ drive of your system. The file is hidden by default and protected by the system.
Why pagefile.sys is too large?
The pagefile.sys runs when your physical memory is insufficient to run the programs. It works as virtual memory for the windows and its size depends upon the physical memory and programs you are using in daily life.