Advertising is the most important tool for marketing. Over the years, advertising techniques have progressed from huge banners to digital marketing.
Every company embraces advertising as a medium to reach customers. It is a powerful tool that helps companies to gain more profit, build a successful brand, and get huge sales.
Accordingly, social media marketing is a huge platform with millions of potential customers and internet traffic. It is a great way to connect with a wide audience. However, a business should have an attractive ad campaign to reap its various benefits. 
7 Ways to Advertise Your Fast Food Chain Effectively
Social media marketing includes advertising on social media platforms like Instagram, YouTube, Facebook, and Twitter. They are one of the most powerful platforms to advertise products or services. This can be achieved by advertising on Instagram stories, Facebook posts, and making your own hashtags on Twitter.   
It improves brand recognition, reduces marketing costs, and ranks better on search engines. Thus, fast food and social media are surely a great combination. Here are some of the top tricks to advertise your fast-food chain to gain popularity
1. Publicizing Through Videos
Using videos for a marketing campaign is very popular as it shows interesting and creative content. Currently, YouTube is the most prominent video sharing site and is widely used for viral advertising. 
Fast food advertisements are loved by many and usually get more shares and views. It is where people don't care about competition but the appearance, quality, and quantity of food.
If you have decided to make advertising videos, then use appealing graphics and images with fun and delightful techniques.
Collaborate with YouTube influencers to help with your ad campaign as it will get you more views and shares.
Use a food survey to get feedback and learn about the taste preferences of your customers. You can also try to make the videos according to the survey results.
2. Lay Emphasis On Mobile Apps
Nowadays, mobile apps have become a basic necessity for restaurants and fast-food chains. People prefer apps rather than websites as they are handy.  

Most companies take advantage of this by creating mobile applications for people to discover food stores, restaurants, and cafes in a few minutes. 
Some of the apps can provide home delivery options, along with discounts on food items.
Additionally, some applications can help to check the remaining balance of gift cards for those who provide the same.
3. Using Bright and Energetic Colors
Colors have an expressive power to create an atmosphere of fun and happiness. Using warm colors shows passion, happiness, and energy. Therefore, including these colors in the advertisement charms the audience, positively affecting consumer behavior.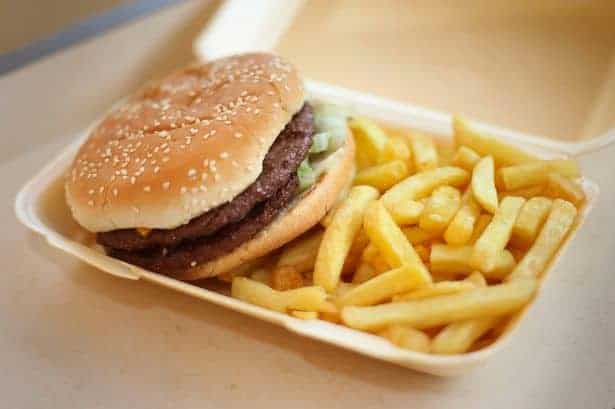 Generally, restaurant or cafe ads use bright and attractive colors to reflect positivity. However, some sophisticated ones use dark and sober colors to represent power and smoothness. The psychology of colors and human behavior is a clever approach to advertising. 
Contrasting color is very significant for its appearance as an adaptation of the wrong colors can be a disaster.
Using bold colors like cherry red, bright yellow, and dark purple can sometimes be sharp on the eyes.
Very light and dull colors can be uncertain as they will not highlight the dishes to attract customers' attention.
There should be the right amount of colors with a combination that's neither too dark nor too light.
4. Targeting The Younger Audience 
Kids and fast foods are best friends in terms of eating. Many fast-food companies like McDonald's and Burger King have youngsters as customers. They are generally attracted to kid's meals, toy collections, and tasty burgers. 

These companies have also used the techniques of 'signature games.' The children play these games on mobile phones and watch irresistible fast-food ads. Therefore, visually appealing advertisements force them to grab a snack from their favorite fast food place. Children spend half of their day in schools, so fast food companies advertise their products there.
5. Fulfilling Promises
Advertisements are promises by companies to consumers that solely focus on the good quality of food as described. When companies are unable to meet the desires of customers, they get quite disappointed. 

To change the negative perspective of customers and gather more audience, companies should give the portions as promised on ads.
Tasting should be according to the specifications of ads that draw the attention of people.
Larger companies promise that they sell hygienic products. Thus, they should stick to their words to gain customers' trust.
Fake and illegal promises indicating nutrient levels are socially and morally incorrect.
These kinds of claims should not be rendered to the customers unless they're true.
6. Follow Trends in the Food Industry
It is not always necessary to be a social media freak or have a connection with communication channels. However, following popular trends and including them in products or diners is a great way to attract customers. These methods are quite effective in boosting sales.
Doraemon, Pokemon, superheroes, etc. are some of the most popular characters among kids and adults. So, creating ads along with them and being a part of trending events should foster the growth of the business.
Building competition on a popular subject like "who knows better" or supplying free pens, shirts, or mugs will generate high sales.
7. Striking Emotional Chords
Ads are a source of communication, and fast food chains can connect with their audiences emotionally by creating them. Advertisements without emotional connect are like noise with no interested audience.
For example, coca-cola uses festivals in its ad campaigns because it is the source of happiness for everyone and evokes pleasant memories among the audience. This made their campaigns outshine with an increase in consumption. 

Hence, make sure to make your ads emotional, as that can grab the masses through effective advertising. Show your audience that you genuinely care for them.
Conclusion
In the race of being the best fast-food chain, technology is a great source to connect with diners and communicate with them. The right combination of marketing included with digital or traditional tactics can certainly fulfill the targeted goals of fast-food chains. Fast food promotions become easy with an attractive ad as it brings more traffic to their doorsteps